How to become one of HEXA social media influencers?
DM our Hexa Food IG Page (@hexafood) admin if you meet the following criteria.
Committed to making high-resolution video recipes and photos every month
Followers need to be at least 1k and above
The content creator must be in the cooking category, whether traditional, western, healthy food, and related
Social media accounts must be public, not private
To Join our HEXA Influencer Package:
Fill in this form to join the Hexa Influencer Package..
In 60 days, if your Reels video on IG reaches 10K to 50K views, you are eligible to claim Incentives 🤩🤩
To make it easier for us to record and monitor your video views, please fill out the form below 😍:

🎈Fill out this form before the 25th of every month

Thank you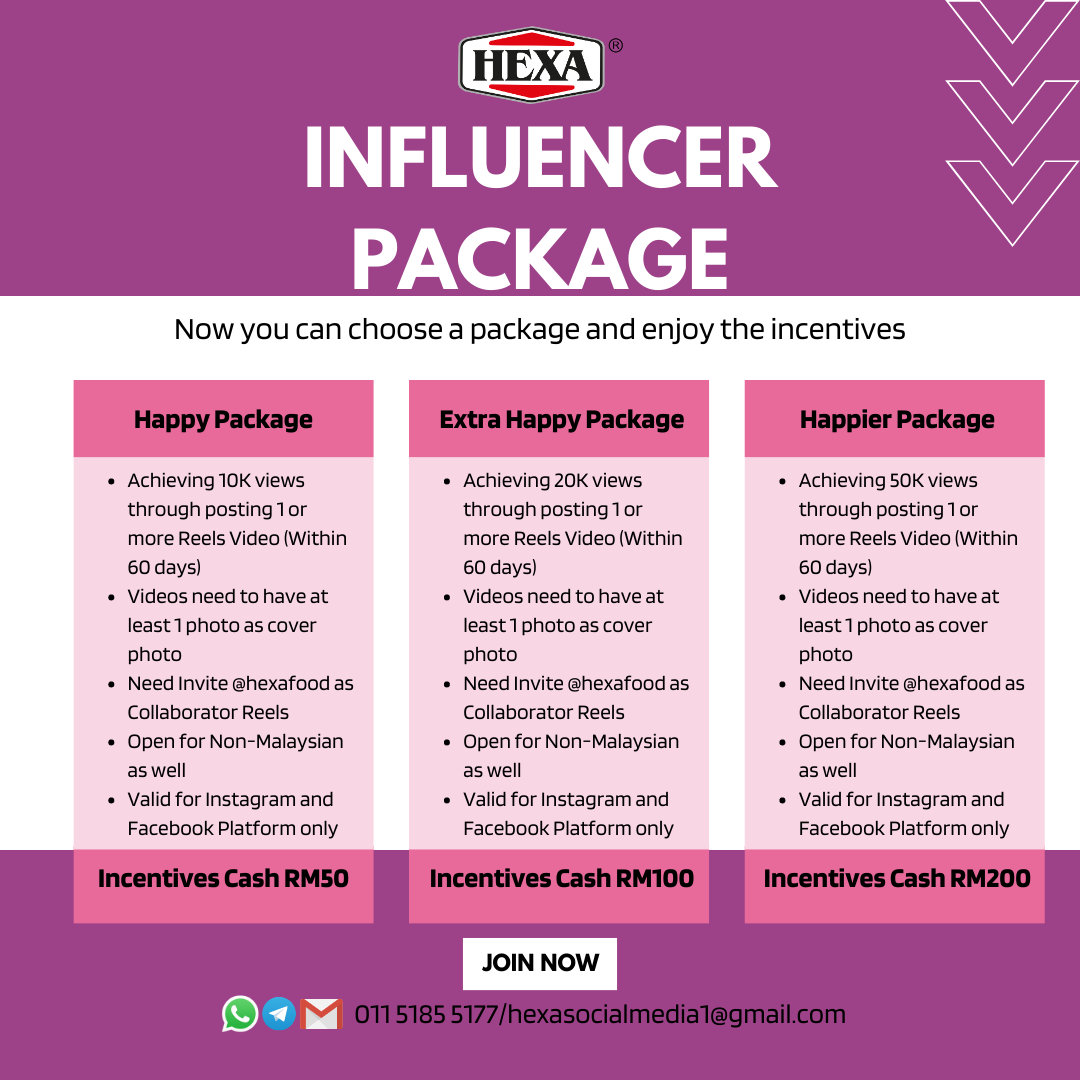 What benefits do I get being a Hexa Food influencer?
We have two different packages which are Platinum & Gold for our influencer program and for each package we have different benefits but in general you get the following benefits.
Free HEXA products on monthly basis
Being entitled of loyalty gift
Free Gift on Special occasions like: New Year, Raya, Raya Haji, CNY, Deepavali, Christmas etc
First to try HEXA NEW launch products (VIP list)
Chance to work with Hexa Food on paid marketing campaigns
Look at our previous winners!
Can my content or posting be featured on Hexa Food social media?
Make sure to tag @hexafood and place the hashtags #Hexafood & #hexafoodaddict on your content so our admin is able to see it and then it can be featured on Hexa Food social media. This can be an opportunity for you to grow your followers faster. However, Hexa Food is not committed to post all the influencers posts and contents.
---
Bagaimana untuk menjadi salah satu pengaruh media sosial HEXA?
DM admin Page IG Hexa Food (@hexafood) kami jika anda memenuhi kriteria berikut:
Komited untuk membuat resipi video dan foto resolusi tinggi setiap bulan
Pengikut perlu sekurang-kurangnya 1k dan ke atas
Pencipta kandungan mestilah dalam kategori masakan, sama ada makanan tradisional, barat, sihat dan berkaitan
Akaun media sosial mestilah awam, bukan peribadi
Untuk Sertai Pakej Influencer HEXA kami:
Isi form ini utk Join Influencer Package Hexa..
Dalam 60 hari, sekiranya video Reels di IG puan mencapai views 10K hingga 50K, puan/tuan layak claim Incentives 🤩🤩
Untuk memudahkan saya record dan monitor views video puan, sila isi form di bawah 😍:
🎈Isi form ini sebelum 25 hari bulan setiap bulan
Terima kasih 🥰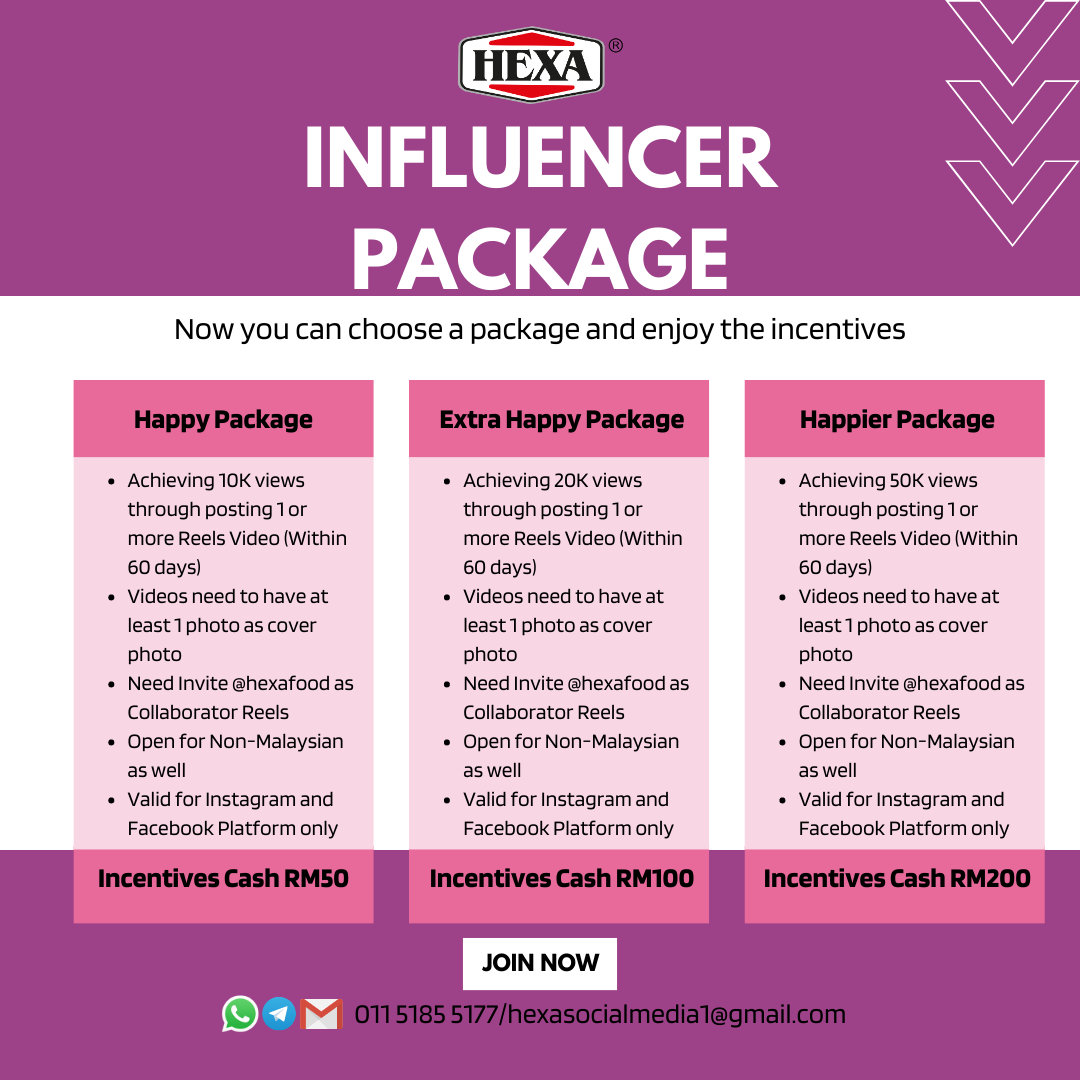 Apakah faedah yang saya dapat menjadi pengaruh Hexa Food?
Kami mempunyai dua pakej berbeza iaitu Platinum & Emas untuk program influencer kami dan untuk setiap pakej kami mempunyai faedah yang berbeza tetapi secara amnya anda mendapat faedah berikut:
Produk HEXA percuma setiap bulan
Berhak menerima hadiah kesetiaan
Hadiah Percuma pada majlis-majlis Khas seperti: Tahun Baru, Raya, Raya Haji, CNY, Deepavali, Krismas dll
Mula-mula mencuba produk pelancaran BAHARU HEXA (senarai VIP)
Peluang untuk bekerjasama dengan Hexa Food dalam kempen pemasaran berbayar
Lihat pemenang kami sebelum ini!
Bolehkah kandungan atau siaran saya dipaparkan di media sosial Hexa Food?
Pastikan tag @hexafood dan letakkan hashtag #Hexafood & #hexafoodaddict pada kandungan anda supaya pentadbir kami dapat melihatnya dan kemudian ia boleh dipaparkan di media sosial Hexa Food. Ini boleh menjadi peluang untuk anda mengembangkan pengikut anda dengan lebih cepat. Walau bagaimanapun, Hexa Food tidak komited untuk menyiarkan semua siaran dan kandungan influencer.