Tired of munching on unhealthy snacks and later beating yourself up for doing so? We have a healthier alternative for you that is both tasty as well as nutritious! HEXA NUT-TREAT-IOUS is a quick snack for people on the go or something to munch on while you unwind during the weekend watching your favorite movie or TV show.
Hello, what are your snacking habits?
We kinda like to snack while studying, watching TV or gossiping in front of PC. But snacking tends to make our waistline wider and heavier due to high calories and fat. Snacks such as potato chips, crackers, biscuits are high in carbohydrates, fats or salt & sugar which are not really recommended for daily consumption.
Our team at HEXA FOOD decided to design our first Super Snack: HEXA NUT-TREAT-IOUS. As the name implies, it's a mixture of only natural ingredients from nuts, seeds and dried fruits to make snacking delicious, fun, beneficial & less guilty at the same time. No additional salt & sugar is added to our product.
So, what makes our Super Snack an excellent choice?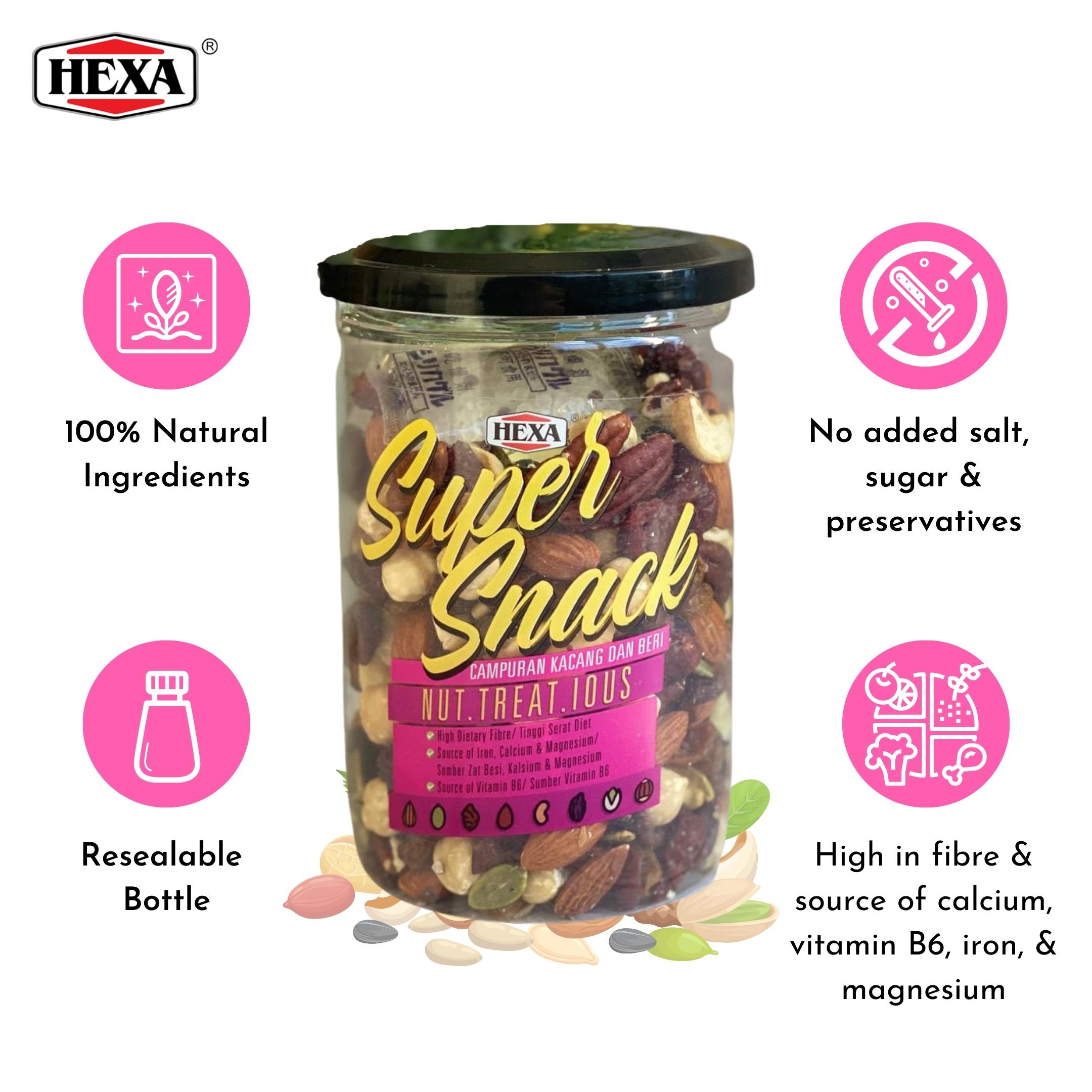 Almond, pecan, pistachio, hazelnut, pumpkin seeds and cashew nuts have dietary antioxidant and is rich in fibre and minerals but low in sugar and calories. It is able to help control blood sugar and  lower blood pressure level .They also help improve brain and heart function and make you feel full for a longer period which satisfy your cravings.
Furthermore, we have added dried berries such as raisin and cranberry for sweeter taste and it also gives chewy texture. They contain fibre which can keep you full for longer period as it slows down the emptying of your stomach. These berries are great source of iron, calcium and antioxidants too.
However, it is not recommended to over consume and it is not suitable for people that has nut allergies, for people who are on specific medicines which is laxatives, blood pressure and antibiotics medicines. Other than that, people that has difficulty in swallowing is also not recommended to consume this product. Like all food, overconsuming is not recommended so eat it sparingly.
So grab yours now at our online stores!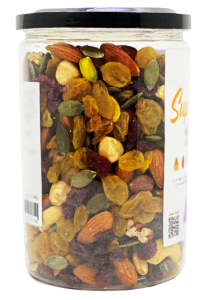 Description
HEXA Nut Snacks which consists of Almond, Cranberry, Raisins, Pumpkin Seed, Hazelnut, Cashew Nut, Pecan and Pistachio are created specifically for those who love snacking especially when in front of the PC/Laptop/TV. It contains only natural dried fruits and nuts roasted to perfection, and has NO added salt or sugar. The product formulation is high in Protein, Fiber, Omega Oil, Good Fat and a great source of several nutrients, including vitamin E, magnesium, and selenium but low in carbs. As these needs can be highly addictive, do consume them in moderation, and enjoy every bite.
Health benefits:
Help lower cholesterol
Reduce the risk of heart disease
Help protect against diabetes.
Good for your heart
Help reduce the risk of cancer
Aid in muscle, skin, bone, joint and digestive health.
Promote weight loss.
Promote gut health.
May reduce inflammation, especially in people with diabetes, kidney disease, and other serious health conditions.
Suggested Use
Mixed nuts may be salted, roasted, cooked, or blanched or can be eaten directly.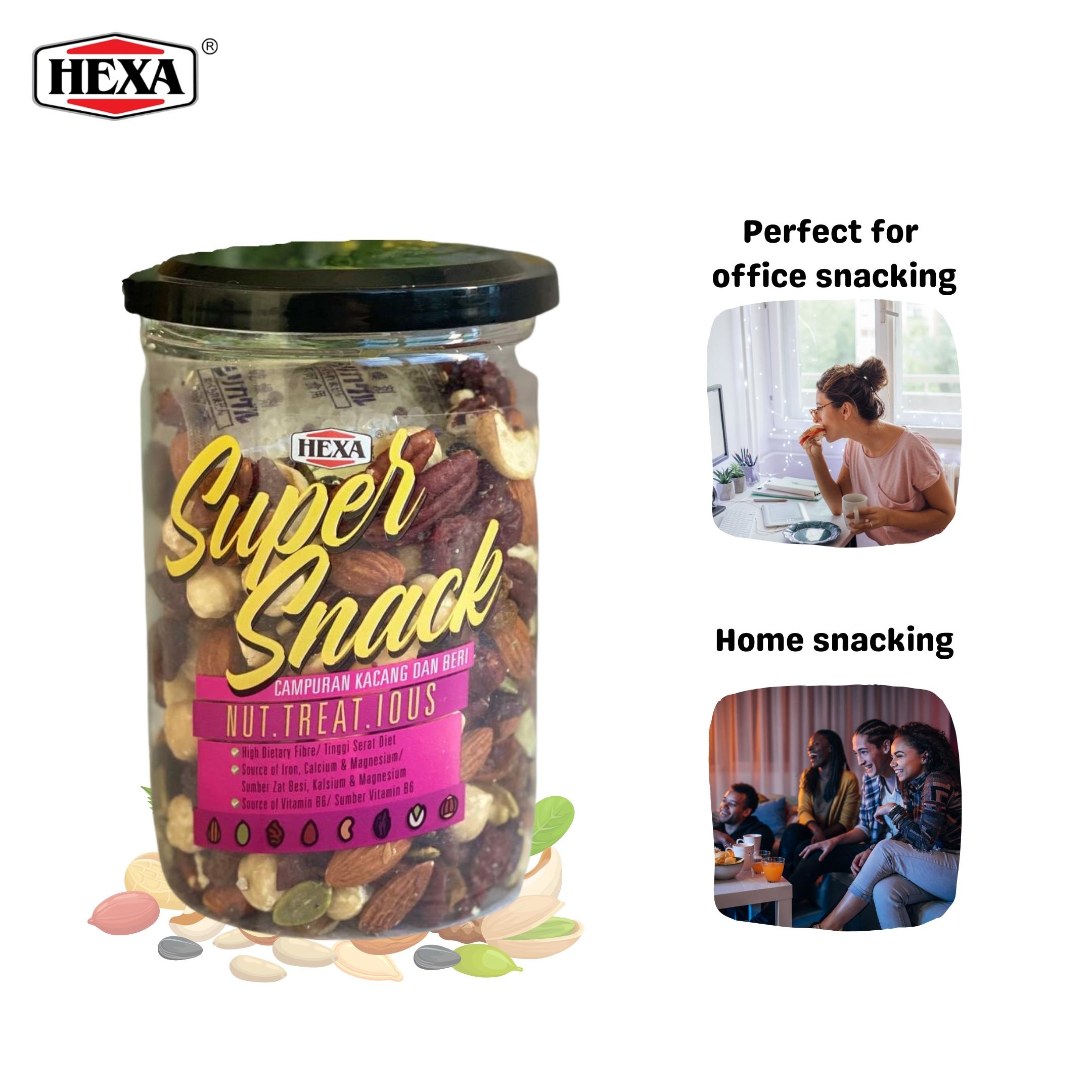 Culinary Uses: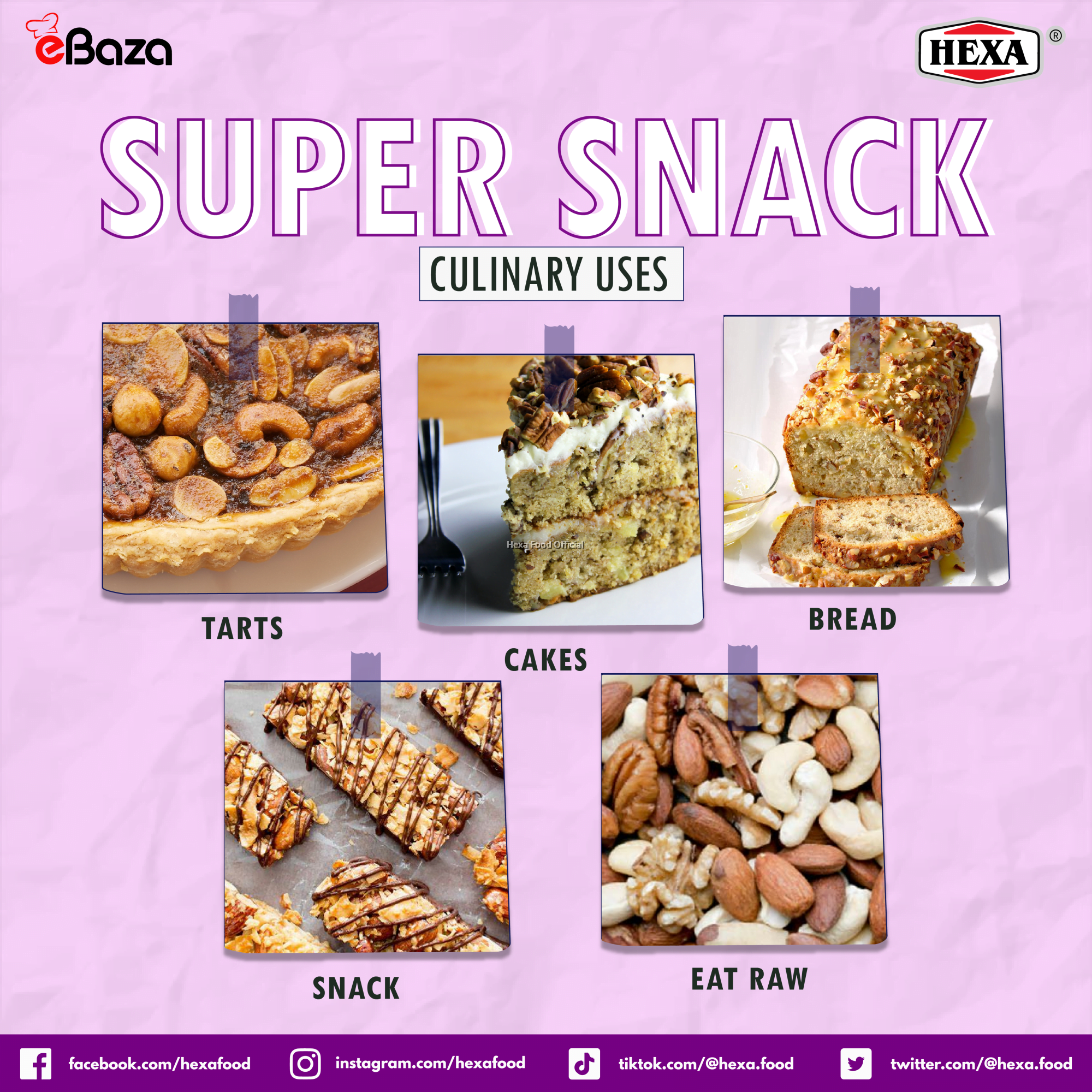 Mixed nuts are mostly enjoyed as snacks with the beverage of your choice. They are served as accompaniments with cocktails, smoothie, juice and even to use in salad to add extra crunchiness.
You can even use as baking essentials in tarts, breads, brownie and cakes.
Use your favorite seasoning combination along with butter to make a spicy mixed nuts treats.
How to store nuts?
Store mixed nuts in an airtight container and keep it in a cold dry place.
---
HEXA Official Platforms
Website: here
Facebook: here
Instagram : here
Youtube: here (Subscribe for more video recipes! Yum :P)
To purchase our products, check out our online stores
E-baza: here
Shopee: here
Lazada: here
Tik Tok: here
If you'd like to contribute video to our channel, feel free to drop us an email here!