Salt is a soul ingredient of various dishes that infuses a specific flavor to food. It is an essential part of cooking as we can't even imagine a dish without it. Though finely powdered salt (table salt) is widely being used as a coarse but the pure form of salt exists as "rock salt" also known as "Sendha Namak" that is generally found in the Himalayan region in higher concentration. Almost 84 essential elements are traced out of 92, which are required for body growth such as sodium, potassium, iron, calcium, zinc, etc.
Pink Himalayan salt is a pink-colored salt extracted from the Khewra Salt Mine, which is located near the Himalayas in Pakistan. The salt is hand-extracted and minimally processed to yield an unrefined product that's free of additives and thought to be much more natural than table salt.
Rock salt/Garam Batu/岩盐 is used as a condiment and preservative in Indian cuisine, especially during fasting days. It adds great flavor to chaats, chutneys, raitas and many other savoury Indian snacks and vegetable preparations. Its coarse texture makes it easy to pick up and sprinkle on food during or after cooking.
Introducing HEXA Rock Salt:-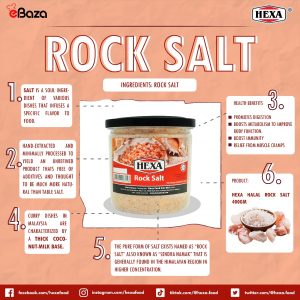 HEXA's rock salt is all natural. It contains more than 98% of sodium chloride, the remaining elements include iron, calcium, magnesium, potassium, aluminum, zinc, gallium, silicon and other dozens of minerals required by the human body.
Some advantages of rock salt includes:-
Replenish electrolytes and balance the body's pH
Help strengthen breathing, digestion, circulation and nervous system
Strengthen and moisturize organs and tissues
Improve sleep quality and promote brain development
Reduce water loss
Remove toxins and excess water from the body
Rich in natural minerals can help relieve stress and moisturize the skin
Description
100% natural ingredients.
Less artificial and does not contain additives.
Promote digestion
Boost metabolism to improve body function.
Boost immunity
Relief from muscle cramps
Halal Certified.
HACCP certified.
Get our HEXA Rock Salt online at these platforms
Suggested Use
You can use it for regular cooking or as a finishing salt. It offers a burst of saltiness for your palate. Himalayan salt is also good for seasoning meat as it clings to the surface well and spreads evenly.  You can also blend the sweet and savoury and use a pinch in desserts. Boiled foods like pasta can be salted with rock salt that is placed into the water. You can also use it for curing and pickling.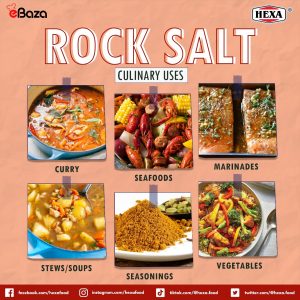 Here are some recipes you can make using our HEXA Rock Salt:-
Uses:
Seasonings
Desserts
Meats
Seafoods
Vegetables
Soups

Pastas
Ingredients
Rock salt
Storage
Keep in a clean, dry and cool place. Better to keep in the fridge once open.