(18 JAN – 28 FEB 2021)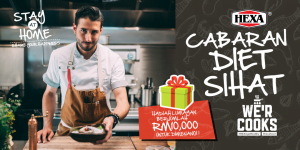 Dalam tempoh kawalan pergerakan yang lepas, nampaknya ramai di antara kita yang mempunyai masalah naik berat badan. Oleh itu, HEXA ingin mengajak anda mengamalkan gaya hidup sihat sepanjang tempoh Kawalan Pergerakan yang akan bermula pada 13 JAN 2021 oleh Kerajaan Malaysia. Mari kita tetap duduk di rumah, dan nikmati masakan SIHAT bersama keluarga dalam tempoh kawalan pergerakan kali ini. Selain itu, anda juga berpeluang memenangi hadiah berjumlah lebih dari RM10,000! Menarik kan?
Bagaimana nak sertai?
Langkah 1: Masak Resipi SIHAT anda dengan menggunakan mana-mana Produk "HEXA".
Langkah 2: Muat naik Foto atau Video anda di media sosial (Instagram/TikTok) – [boleh menggunakan TikTok untuk edit video].
Langkah 3: Nyatakan nama hidangan/resipi dalam kapsyen, dan beritahu faedah kesihatan dari resipi anda. Jangan lupa letakkan #HEXAgohealthy #hexafood dan tag @hexafood supaya team kami boleh menemui anda!
Kami akan mengumumkan pemenang (harian dan mingguan) di laman Instagram, TikTok, dan Facebook kami.
Pasukan kami akan memilih gambar / video / resipi / penulisan / bunyi / bau / pengarah / skrip yang paling kami sukai, bukan hanya berdasarkan suka (like) / penonton (view).
Anda juga boleh menang lebih dari sekali!
Hadiah Harian: 3 Pemenang Harian (produk HEXA bernilai RM40 atau lebih)
ISNIN: 3 pemenang dari peserta pada hari Jumaat, Sabtu, dan Ahad.
RABU: 3 pemenang dari peserta pada hari Isnin & Selasa.
JUMAAT: 3 pemenang dari peserta pada hari Rabu & Khamis.
Hadiah Mingguan: 3 Pemenang Mingguan (hadiah berjumlah RM150 atau lebih untuk Pemenang Mingguan yang akan dipilih melalui voting paling tinggi di Instagram dari Top 5 Pemenang Harian)
AHAD: 3 Pemenang Mingguan (Hasil voting dari followers2 di Instagram Hexafood)
Our e-store: www.ebaza.com.my
Instagram: www.instagram.com/hexafood/
Facebook: www.facebook.com/Hexafood/
TikTok: https://vt.tiktok.com/MRxbHq/ Pinterest: https://www.pinterest.com/hexafoodrecipes/
"We'r Cooks"
Terma & Syarat:
Semua orang boleh menyertai kerana tidak ada batasan umur, kaum atau agama tetapi hadiah hanya akan dihantar ke alamat Malaysia, Singapura dan Brunei sahaja, anda masih boleh menyertai jika anda berada di luar negara. Hadiah yang menarik dan anda pasti menyukainya!
Kandungan perlu mempunyai visual tentang jenama HEXA, kalau tak kami tidak tahu sama ada, ada jenama kami atau tidak dalam video/ gambar.
Jangan lupa dengan hashtag #HEXAgoHealthy dan #hexafood dalam post anda. (Instagram ATAU TikTok).
4. Setiap orang boleh memenangi lebih daripada sekali, tidak ada LIMIT.
Jangan terlalu kompetitif, yang paling penting adalah untuk menikmati masakan SIHAT bersama orang-orang yang tersayang, lakukan hashtag #HEXAgoHealthy dan kekalkan jarak sosial.
Tempoh ini akan bermula dari 18 Jan hingga 28 Feb 2021 (mungkin akan dilanjutkan)
Pemenang akan diumumkan pada hari ISNIN, RABU, JUMAAT dan AHAD
Hadiah akan dihantar melalui kurier pada setiap hari SABTU.
Nota: Pemenang dari Singapura & Brunei hadiah memerlukan sedikit masa untuk sampai ke alamat anda.
HEXA "We'r Cooks" Challenge 3.0 is BACK in 2021
In the last period of movement control, it seems that many of us have weight gain problems. Therefore, HEXA would like to invite you to adopt a healthy lifestyle during the Movement Control period which will start on 13 JAN 2021 by the Government of Malaysia. Let's stay at home, and enjoy HEALTHY cooking with the family during this movement control period. Apart from that, you also have the chance to win prizes amounting to more than RM10,000! Interesting right?
How to join?
Step 1: Cook your HEALTHY Recipe using any "HEXA" Product.
Step 2: Upload your Photos or Videos on social media (Instagram / TikTok) – [can use TikTok to edit videos].
Step 3: State the name of the dish/recipe in the caption, and state the health benefits of your recipe. Don't forget to put #HEXAgohealthy#hexafood and tag @hexafood so our team can find you!
We will announce the winners (daily and weekly) on our Instagram, TikTok, and Facebook pages.
Our team will choose the pictures / videos / recipes / writing / sounds / smells / directors / scripts that we like the most, not just based on the likes / viewers (view).
You can even win more than once!
Daily Prizes: 3 Daily Winners (HEXA products worth RM40 or more)
MONDAY: 3 winners from participants on Friday, Saturday, and Sunday.
WEDNESDAY: 3 winners from participants on Monday & Tuesday.
FRIDAY: 3 winners from participants on Wednesday & Thursday.
Weekly Prizes: 3 Weekly Winners (prizes of RM150 or more for Weekly Winners who will be selected via the highest voting on Instagram from the Top 5 Daily Winners)
SUNDAY: 3 Weekly Winners (Voting results from followers2 on Instagram Hexafood)
Our e-store: www.ebaza.com.my
Instagram: www.instagram.com/hexafood/
Facebook: www.facebook.com/Hexafood/
TikTok: https://vt.tiktok.com/MRxbHq/
Pinterest: https://www.pinterest.com/hexafoodrecipes/
"We'r Cooks"
Terms and Conditions: 1. Everyone can join because there are no age, race, or religion restrictions but prizes will only be sent to Malaysia, Singapore, and Brunei addresses, you can still join if you are abroad. Attractive gift and you will surely love it! 2. Content should have visuals about the HEXA brand, otherwise, we do not know whether there is our brand or not in the video/picture. 3. Don't forget the hashtags #HEXAgoHealthy and #hexafood in your post. (Instagram OR TikTok). 4. Everyone can win more than once, there is no LIMIT. 5. Do not be too competitive, the most important thing is to enjoy HEALTHY cuisine with your loved ones, do hashtag #HEXAgoHealthy and maintain social distance… 6. This period will run from 18 Jan to 28 Feb 2021 (may be extended). 7. Winners will be announced on MONDAY, WEDNESDAY, FRIDAY, and SUNDAY. 8. Gifts will be sent by courier every SATURDAY.
Footnote: Winners from Singapore & Brunei prizes need some time to get to your address.