Korean Fried Chicken, its unique sensation of deliciously crispy chicken with its best partner Korean sauce. It sets apart from other fried chicken as it is double deep-fried to achieve the ultimate crispy, crunchy crust that does not get soggy even when it is coated with sauce. Korean fried chicken is always perfect for any occasion and we guarantee that everyone will fall in love with it instantly.
Do you find it hard to get Korean fried chicken during MCO? Or do you remember that craving for Korean fried chicken while watching k-drama? Why not try making it yourself at home? HEXA always got your back! Introducing our combo package, you can now fix your craving easily by making authentic Korean fried chicken in your house!
We have made it easy for you to become fried chicken master by providing you the best combo package of fried chicken flour with Korean sauces and seaweed flavour seasoning.  It is convenient and quick to prepare. Every single bite is filled with the juiciness and crunchiness of chicken. Try it out and share your Korean fried chicken in social media with us by using the hashtag #HexaKFC. Its time to impress your friends and families.
Check it out at our e-stores:
Once you have gotten our combo package, here is where the fun begins! Here are the ingredients that you will need attached with our cooking instructions to help you achieve that instagram-able delicious Korean Fried Chicken.
Ingredients
100g HEXA Korean Fried Chicken Flour
1 kg chicken (cut into small pieces of chicken wings / drumsticks / boneless chicken
thigh)
200ml water
cooking oil (to fry the chicken)
75g Korean sauces (Spicy Gochujang / Garlic soy)
HEXA seaweed flavour seasoning (sprinkle on top according to preference :D)
Cooking Instruction
Prepare the batter by adding 200ml of water into 100g of HEXA Fried Chicken Flour.
Mix it until it forms a smooth mixture and the batter is ready.
Dip the chicken pieces into the batter.
Preheat the oil to around 180°C and add well coated chicken into the hot oil.
Fry the chicken for around 3 minutes or until light golden-brown colour is formed.
Let the fried chicken rest and cool for 1 minute.
Double fry chicken for another 7 to 9 minutes (Time is subject to the size of chicken parts) until a deep golden-brown colour is formed. Drain the oil from the fried chicken.
Dip, pour or toss the hot fried chicken with your desired Korean sauce and sprinkle our HEXA seaweed flavour seasoning on top.
Taa-daa! HEXA Korean Fried Chicken is ready to serve.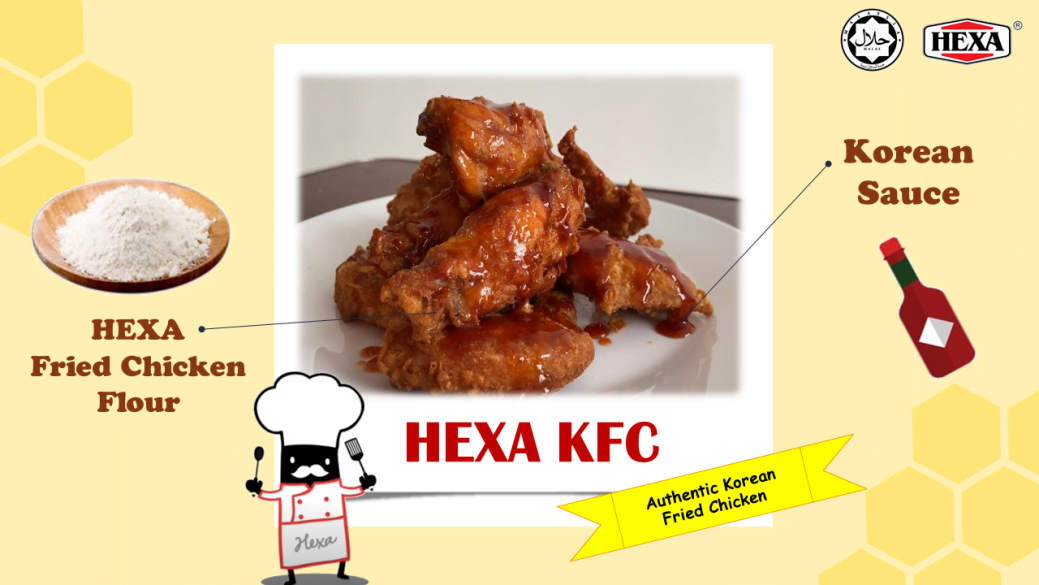 Storage information
The Korean sauces can be kept ambient for 4-6 months. It is recommended to store opened sauces covered or in proper container in the refrigerator.