Golden ~ Creamy~ Rich~ Tasty~ HEXA Salted Egg Sauce (Powder Premix)
Warning: Reading this may cause you hungry.
Egg Powder is made from egg yolk liquid with the process of shelled eggs breaking, liquid filtering, homogenising, pasteurising, fermentation and dry spray. Our Salted Egg Premix uses Egg powder as the main ingredient, mixing with other spices and ingredients to create the perfect blend.
Salted Egg Sauce is one of the most famous sauce dishes in the world. No matter in chinese cuisine, western cuisine, japan cuisine etc…… There are many several ways to serve with foods:- It can be sauce~ it can be seasoning or it can be for dessert. For those who love Salted Egg. Let's rock in HEXA Food. Finally did come out with a simple & safety to use Salted Egg Sauce Premix "HEXA" Salted Egg Sauce Premix
Suggested Usage: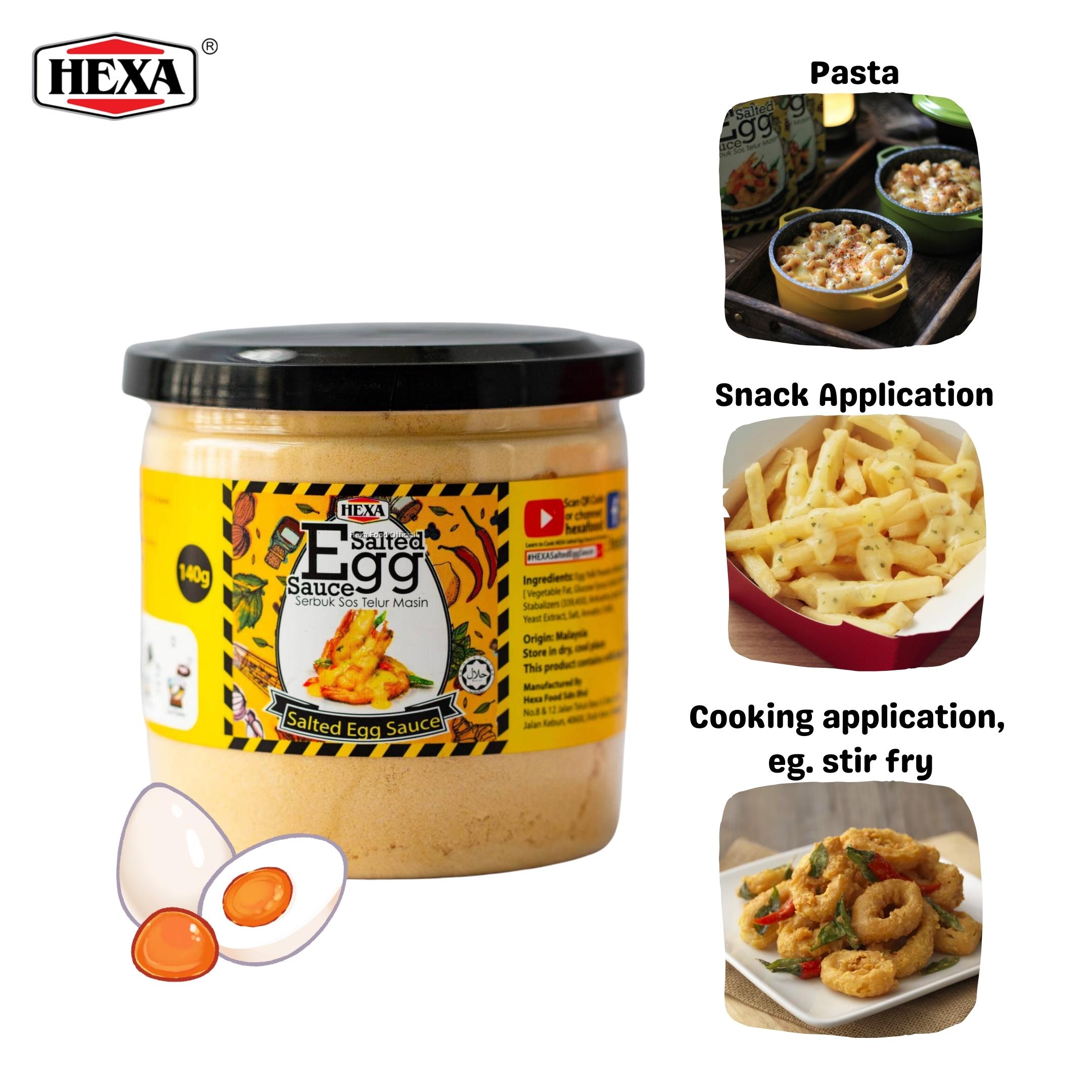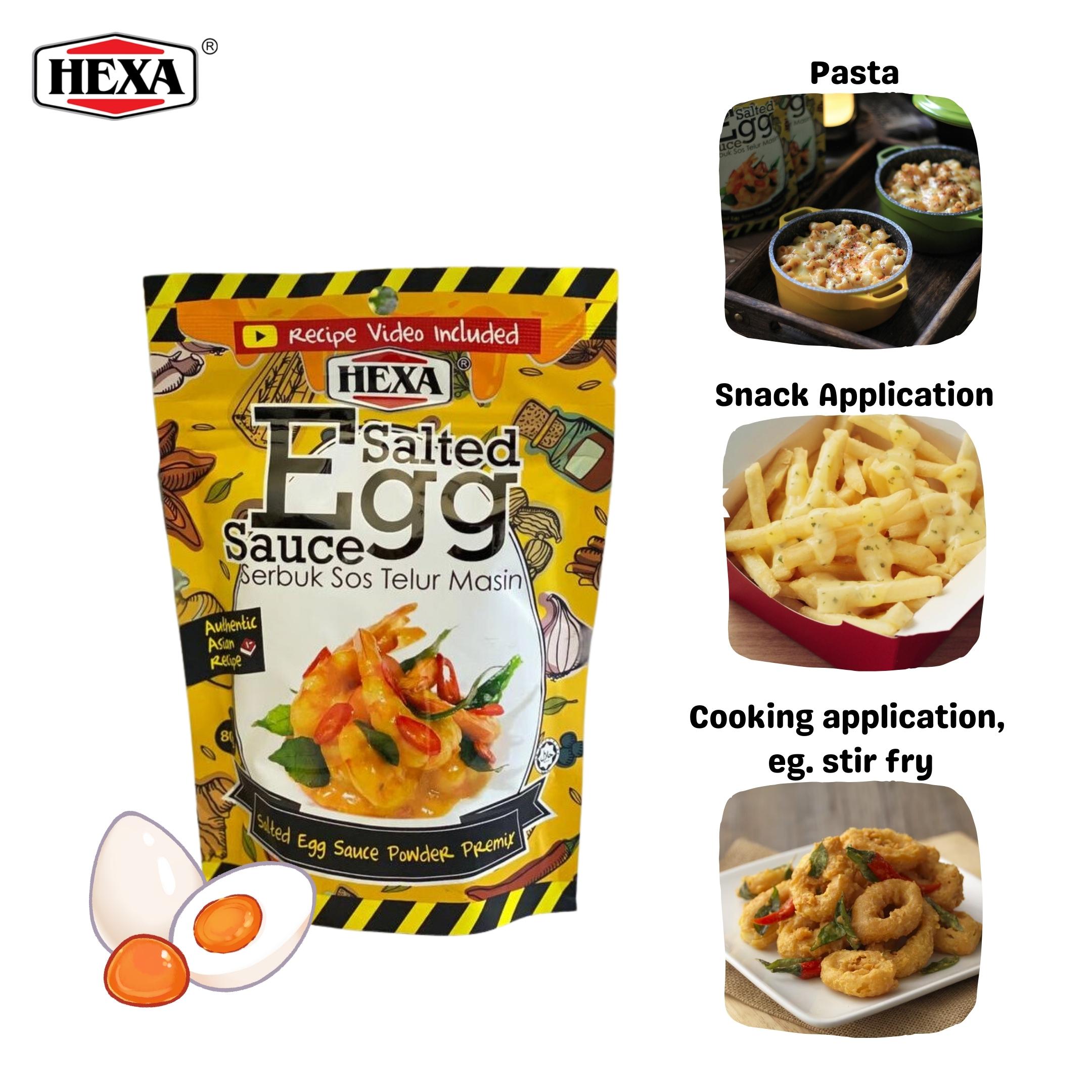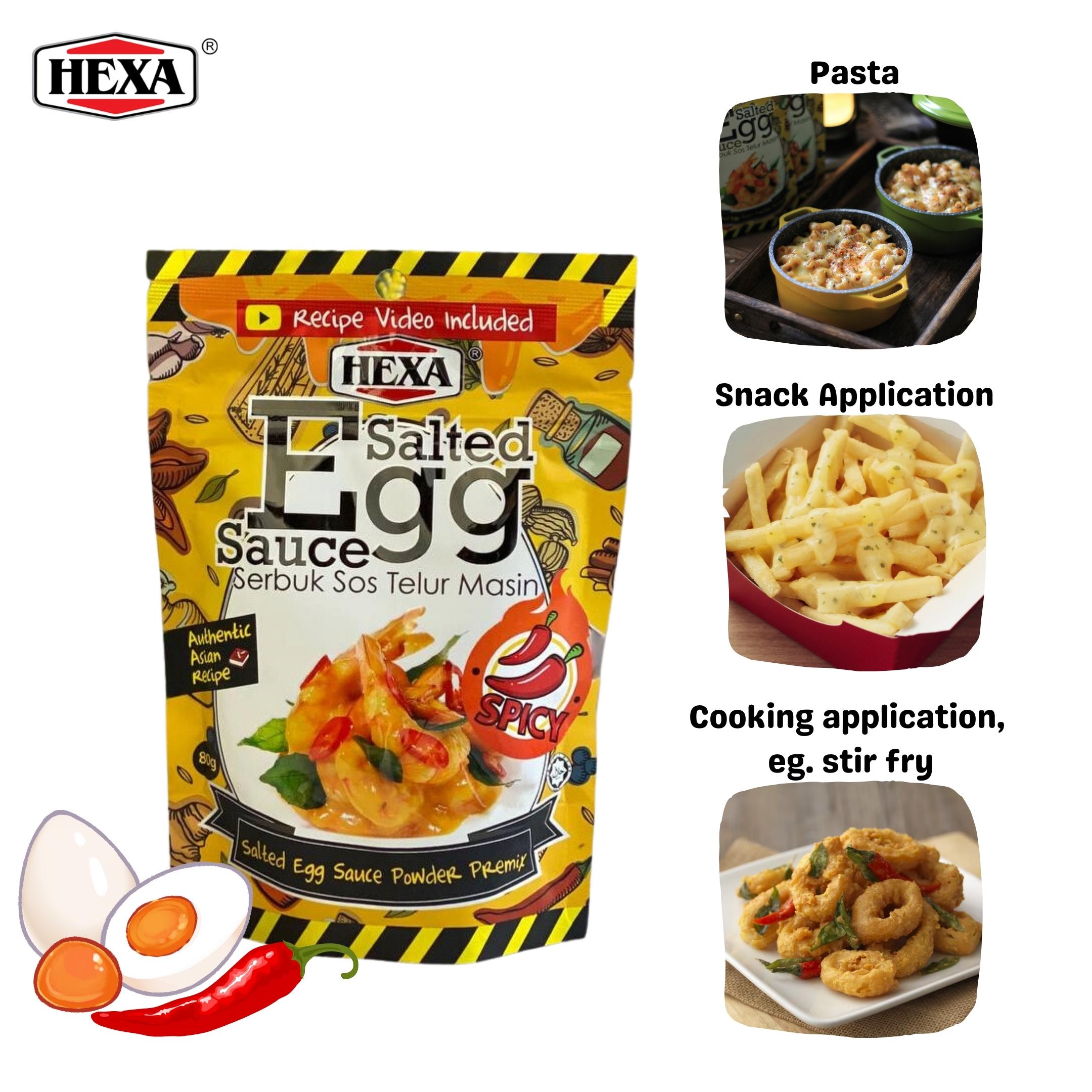 HEXA Salted Egg Sauce:
Ingredients:
Margarine – 50gm

Curry leaves – 2-4 gm

HEXA Salted Egg Sauce premix – 35gm
Cooking Instruction:
Heat margarine until it is melted.

Add curry leaves and HEXA Salted Egg Sauce premix.

Stir & cook at low flame for 2-4 minutes until creamy.
Perfect for the following: Pop-corn chicken (fried) Shrimp (fried) Calamari (fried)
Product links:-
For inquiry please contact:-
Hexa Food Sdn. Bhd
No. 8, Jalan Teluk Batu 9, Batu 4 ½, Jalan Kebun. Sec 36. 40600, Shah Alam, Selangor Malaysia
Tel: 03-51622920
Hexa Food Sdn. Bhd manufactures Salted Egg Sauce Premix Powder and Salted Egg Flavour Seasoning. We supply to wholesalers and food manufacturers in both Malaysia and Singapore. You can inquiry Salted egg sauce premix powder and salted egg seasoning price by emailing us: hexafood@hexafood.com. Hexa Food Sdn. Bhd ensure you can buy Salted Egg Powder with the best quality and price. We in HEXA strongly believe in providing the high-quality level of products to our customers by improving our products regularly.
---
CNY Sale Special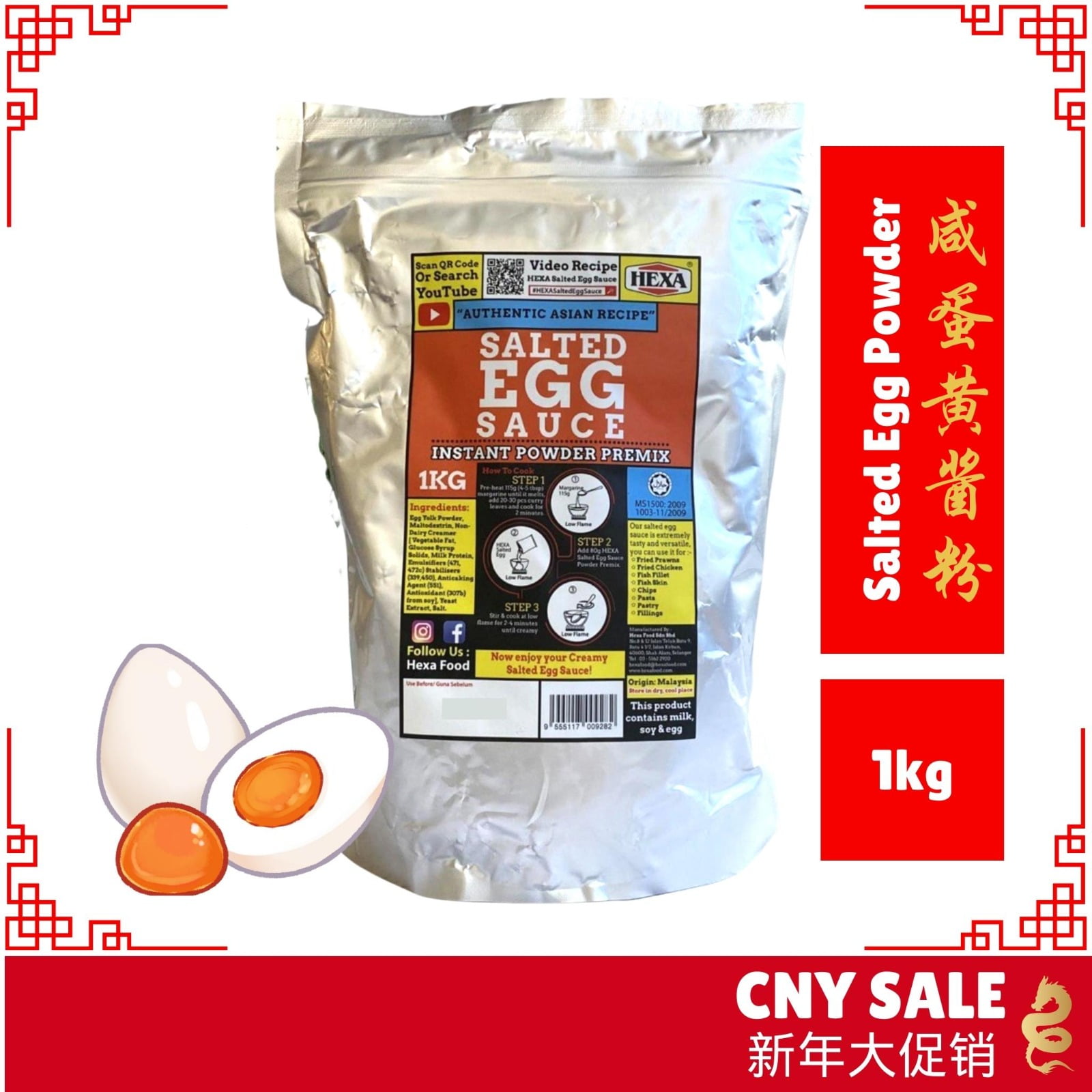 ---
金色〜奶油〜浓郁〜美味〜


HEXA咸蛋酱(粉状预混料)
 

警告:阅读本文可能会导致您饿。
 
蛋粉是由蛋黄液制成的,具有去壳蛋破碎,液体过滤,均质化,巴氏灭菌,发酵和干喷雾的过程。我们的咸蛋预混料使用蛋粉作为主要成分,并与其他香料和成分混合以形成完美的混合物。

咸蛋酱是世界上最著名的酱料之一。无论中餐,西餐,日本料理等等…… 有多种食物搭配方法:可以是酱料〜可以是调味料,也可以是甜点。对于那些爱咸蛋的人。让我们摇滚HEXA Food。最后确实提出了一种简单安全的方法来使用咸蛋酱预混料


" HEXA"咸蛋酱预混料

HEXA咸蛋酱:-

制备:

- 人造黄油– 50克

- 咖喱叶– 2-4克

- HEXA咸蛋酱预拌料– 35克
 

适用于以下情况:

- 爆米花鸡(炸)

- 虾(炸)

- 枪乌贼(炸)


烹饪说明:-

步骤1-将50克人造黄油预热至融化,然后加入2-4克咖喱叶煮2分钟。

第2步–加入35克HEXA咸蛋酱预混合物。

第3步–在低火下搅拌并煮2至4分钟,直到呈奶油状。

#hexasaltedeggsauce


产品链接:-
eBaza: 此
Shopee: 此
Lazada: 此
TikTok:
如有查询,请联系:-
马库斯:marcus@hexafood.com

布兰登:sales@hexafood.com
HEXA食品有限公司私人有限公司 No. 8, Jalan Teluk Batu 9, Batu 4 ½, Jalan Kebun. Sec 36. 40600, Shah Alam, Selangor Malaysia 电话:03-51622920 Hexa Food Sdn。 Bhd生产咸蛋酱预拌粉和咸蛋味调味料。我们向马来西亚和新加坡的批发商和食品制造商供货。 您可以通过发送电子邮件至hexafood@hexafood.com来查询咸蛋酱预拌粉和咸蛋调味料的价格。六食食品有限公司Bhd确保您可以以最好的质量和价格购买咸蛋粉。我们在HEXA坚信通过定期改进我们的产品,为客户提供高质量的产品。