Want to create chicken dishes that are scrumptious and finger-licking good? Worry not. Hexa Ayam Goreng Berempah (Fried Chicken Spice Mix) got you covered! This is your secret weapon. The spice mix has the right combination of spices to give your food that desired umph. Make your friends envious, and whip up something appetizing which is as easy as 1,2,3.
Ayam Goreng Berempah is best eaten with Nasi Kukus (steamed rice), a famous east coast dish. Accompanied by pickles or salad, and topped with mouthwatering curry gravy and extra chilli sambal for spiciness, this dish will make you go back for seconds. Be the chef you dream to be and your family will thank you for it.
Ingredients:
2 pcs chicken (whole leg)
6 tbsp HEXA Ayam Goreng Berempah spice
8-10 tbsp oil
Frying oil (as needed)
Method:
Prepare two pieces of chicken whole leg.
Put 6 tbsps of Hexa Ayam Goreng Berempah into a bowl.
Pour in 8-10 tbsps of cooking oil, and mix well.
Rub the spice mixture into the chicken.
Let it marinate for at least 30 minutes.
Deep fry in hot oil until cooked.
Enjoy the

finger-licking chicken goodness that you have just prepared 😀
---
HEXA Ayam Goreng Berempah
Ingin membuat hidangan ayam yang nikmat dan menjilat jari? Jangan risau. Hexa Ayam Goreng Berempah (Spice Mix Spice Chicken) akan membantu anda! Inilah senjata rahsia anda. Campuran rempah mempunyai gabungan rempah yang sesuai untuk memberikan makanan yang dikehendaki umph. Jadikan kawan anda iri hati, dan cubalah sesuatu yang menyelerakan yang semudah 1,2,3.
Ayam Goreng Berempah adalah gabungan yang terbaik jika dimakan dengan Nasi Kukus (beras kukus), hidangan pantai timur yang terkenal. Diiringi dengan acar atau salad, dan dihiasi dengan kuah kari yang lazat dan sambal cili tambahan untuk kepuasan. Jadilah chef yang anda impikan dan keluarga anda akan berterima kasih kepada anda.
Bahan-bahan
2 ketul ayam (peha)
6 sudu besar Hexa Ayam Goreng Berempah
8-10 sudu besar minyak masak
minyak (secukupnya untuk goreng)
Cara menyediakan Ayam Goreng Berempah:
Sediakan dua ketul whole leg ayam.
Letakkan 6 sudu Hexa Ayam Goreng Berempah ke dalam mangkuk.
Tuangkan dalam 8-10 sudu besar minyak masak, dan kacau dengan baik.
Sapukan campuran rempah ke dalam ayam.
Biarkan ia diperap selama sekurang-kurangnya 30 minit.
Goreng dalam minyak panas sehingga dimasak.
Selamat menjamu selera dengan ayam goreng berempah yang enak sehingga anda akan

menjilat jarimu.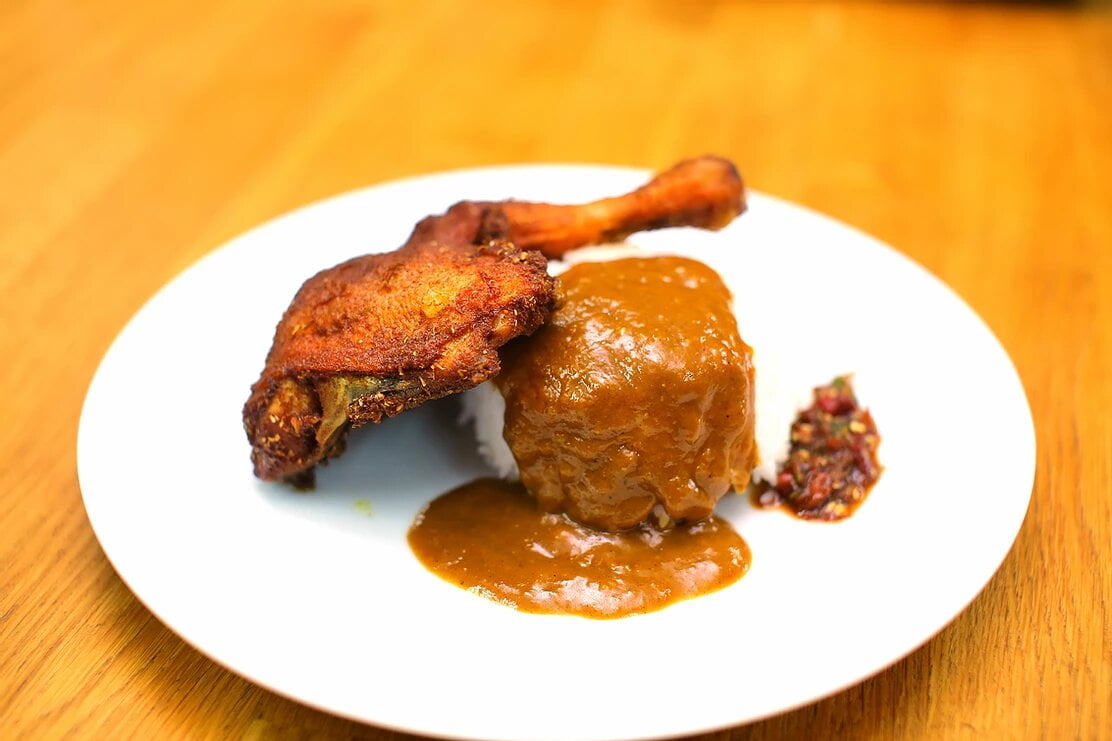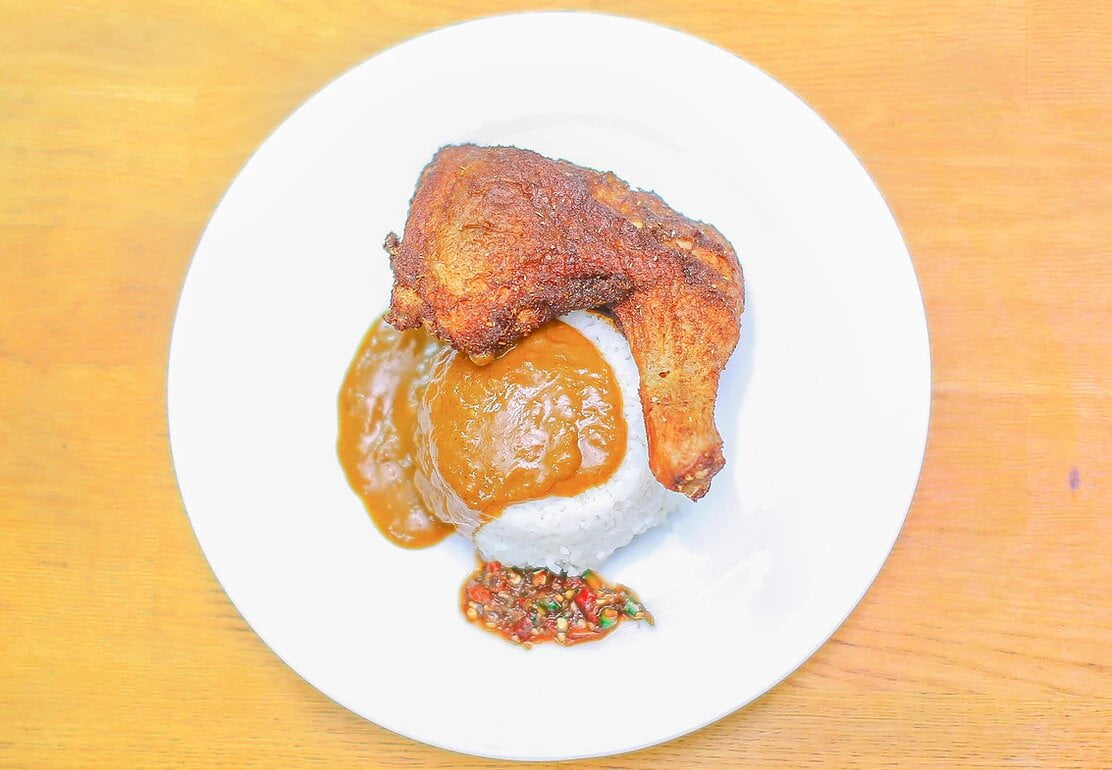 Mengunjungi kedai online kita: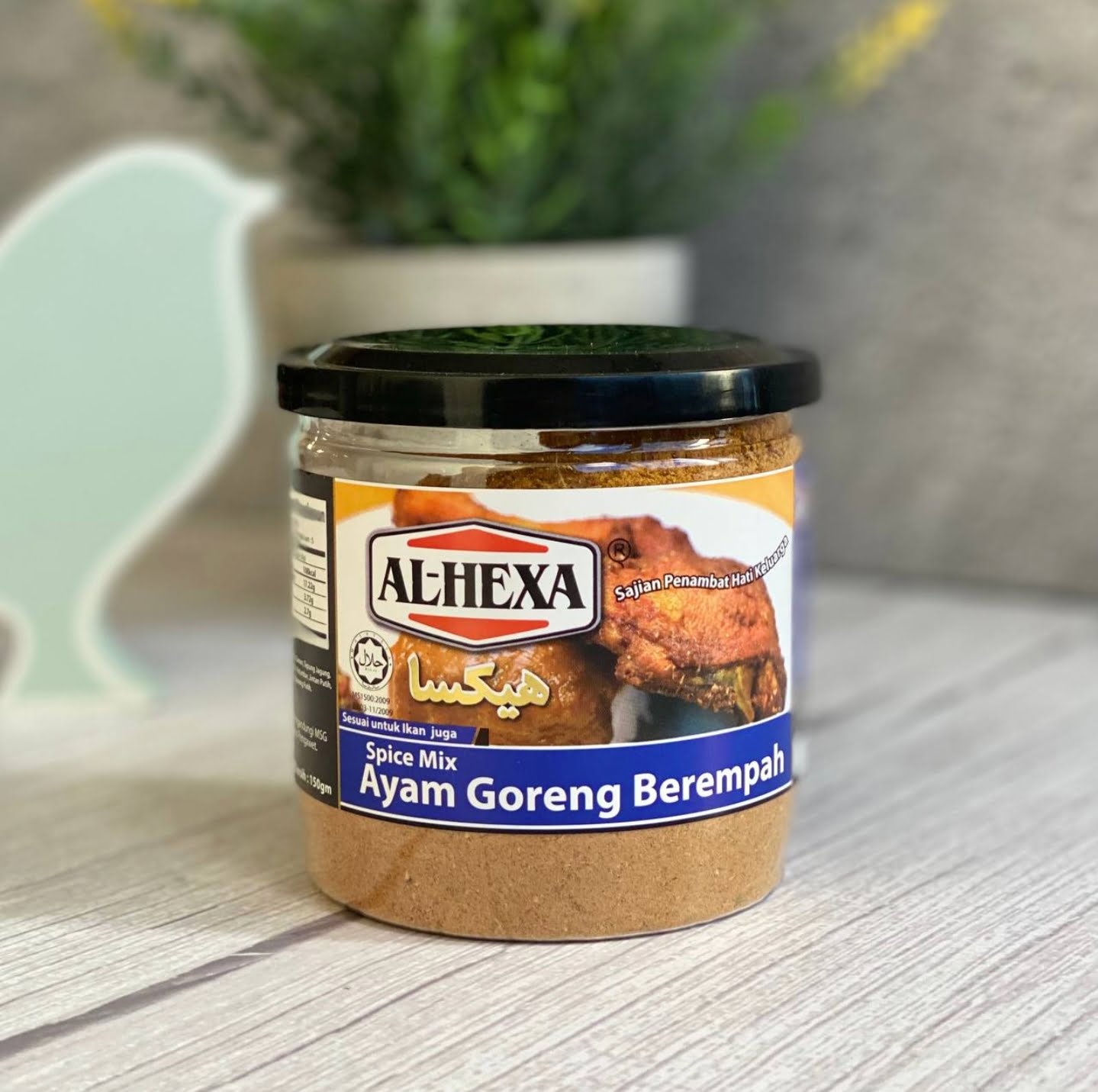 ---
HEXA Ayam Goreng Berempah (香料炸鸡)
是否想要制作美味且可舔手指的鸡肉菜肴?不用担心Hexa Ayam Goreng Berempah(炸鸡香料混合料)让您大饱口福!这是你的秘密武器。香料混合物具有正确的香料组合,可为您提供所需的食物。让您的朋友羡慕不已,并制作一些令人垂涎的东西,就像1,2,3一样简单。
Ayam Goreng Berempah最好与著名的东海岸美食Nasi Kukus(蒸米饭)一起食用。配上咸菜或沙拉,再加上令人垂涎的咖喱肉汁和额外的辣辣椒酱,这道菜会让您流连忘返。成为您梦dream以求的厨师,您的家人将为此致以谢意。

材料:
2个鸡 (整个大鸡腿部分)

6汤匙的Hexa Ayam Goreng Berempah

8-10汤匙食用油

油 
煮法:
 准备两条鸡整条腿

将6汤匙的Hexa Ayam Goreng Berempah放入碗中

倒入8-10汤匙食用油,拌匀

将香料混合物揉入鸡肉中浸泡至少30分钟

在热油中炸至熟

享用酥脆的

Ayam Goreng Berempah!