Jjamppong which is a noodle soup filled with different types of seafood that can be found in Korean-Chinese restaurant is one of the famous dishes in Korea. It gives a spicy kick and tastes very comforting and delicious! It mainly consists of seafoods such as calamari, prawns, mussels and so on!
Imagine having a hot and spicy seafood noodle soup during rainy weather! Not only you can enjoy noodle soup with Hexa Jjamppong powder you can also prepare hot and spicy seafood steamboat with friends and family using the same recipe! How great is that!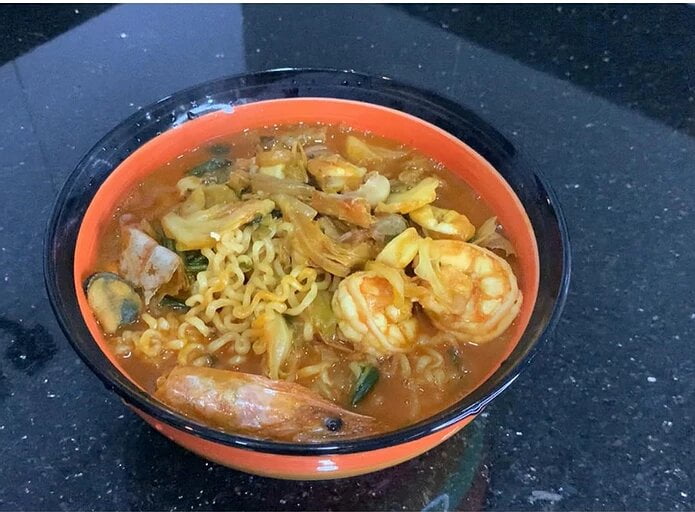 INGREDIENTS:
Anchovies – 1 pack or 28g (with the heads and guts removed)

Water – 450ml

Prawn shells – 45g

Brown onions – 35g

Cabbages – 120g

Pak choy – 120g

Green onion – 5g

HEXA Jjamppong powder – 37g

Prawns – 70g

Calamari – 40g

Mussels – 40g

Noodles – 450g
COOKING METHODS :
Boil 450ml of water with anchovies and cook for 15 minutes then set aside.

Heat up oil and fry prawn shells until fragrant.

Add in brown onions and stir for few minutes until soft.

Add in pak choy, green onions and cabbages. Cook until the vegetables are soft.

Add in Hexa Jjamppong powder and stir for 1-2 minutes until well combined.

Add in precooked anchovies soup into vegetables mixture and let it boil.

Add in prawns, calamari and mussels and let it cook till its cooked through.

Add in noodles of your choice.

Serve while hot!
HEXA Jjamppong powder direct link:-
—————————————————————————————————————————————————————————————————————-
Jjamppong yang merupakan sup mi dipenuhi dengan pelbagai jenis makanan laut yang boleh didapati di restoran Korea-Cina adalah salah satu hidangan terkenal di Korea. Ini memberikan sepakan pedas dan rasanya sangat selesa dan enak! Ianya terdiri daripada makanan laut seperti cumi, udang, kerang dan sebagainya! Bayangkan makan sup mi makanan laut yang panas dan pedas semasa cuaca hujan! Anda bukan sahaja dapat menikmati sup mi dengan serbuk Hexa Jjamppong, anda juga boleh menyediakan steamboat makanan laut panas dan pedas bersama rakan dan keluarga menggunakan resipi yang sama! Betapa hebatnya!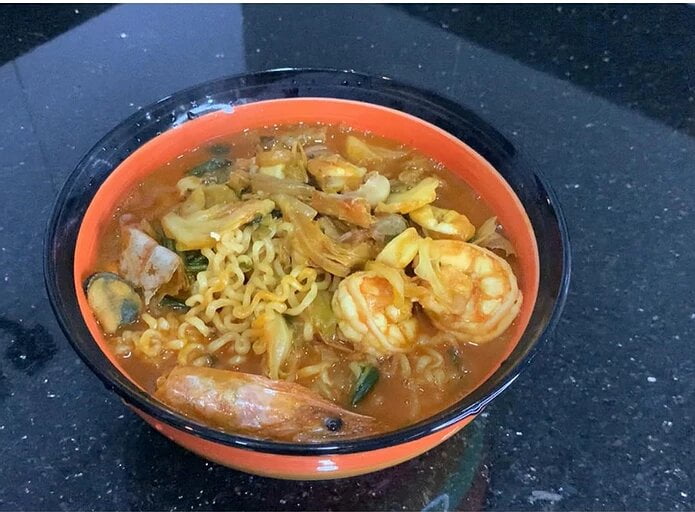 BAHAN-BAHAN:
Ikan teri – 1 bungkus atau 28g (dengan kepala dan usus dikeluarkan)

Air – 450ml

Cengkerang udang – 45g

Bawang perang – 35g

Kubis – 120g

Pak choy – 120g

Bawang hijau – 5g

Serbuk HEXA Jjamppong – 37g

Udang – 70g

Calamari – 40g

Kerang – 40g

Mie – 450g
KAEDAH MEMASAK:
Rebus 450ml air dengan ikan bilis dan masak selama 15 minit kemudian ketepikan.

Panaskan minyak dan goreng cengkerang udang hingga wangi.

Masukkan bawang perang dan kacau selama beberapa minit hingga lembut.

Masukkan pak choy, bawang hijau dan kubis. Masak hingga sayur lembut.

Masukkan serbuk Hexa Jjamppong dan kacau selama 1-2 minit sehingga sebati.

Masukkan sup ikan bilis yang telah dimasak ke dalam campuran sayur-sayuran dan biarkan mendidih.

Masukkan udang, cumi dan kerang dan biarkan hingga masak.

Masukkan mee pilihan anda.

Hidangkan semasa panas!
Link ke Serbuk HEXA Jjamppong:-
——————————————————————————————————————————————————————————————————————-
Jjamppong是一种面条汤,里面装满了各种海鲜,在韩国中餐厅中可以找到,它是韩国著名的菜肴之一。它给人辛辣的味道,味道非常舒适可口!它主要包括海鲜,例如枪乌贼,虾,贻贝等!


想象一下,在下雨天吃辣麻辣海鲜汤!您不仅可以享受Hexa Jamppong粉末制成的面条汤,还可以使用相同的食谱与亲朋好友一起准备辛辣的海鲜火锅!那太好了!




配料:
凤尾鱼-1包或28克(去掉头部和内脏)

水– 450毫升

虾壳– 45克

葱– 35克

白菜– 120克

白菜– 120克

葱– 5克

Hexa Jamppong粉– 37g

大虾– 70g

枪乌贼– 40克

贻贝– 40克

面条– 450g


烹饪方法:

1.将450毫升的水和凤尾鱼煮沸,煮15分钟,然后放在一旁。

2.加热油,炸虾壳,直到香。

3.加入棕色洋葱,搅拌几分钟直至变软。

4.加入白菜,大葱和白菜。煮至蔬菜变软。

5.加入六倍的Jampampong粉末,搅拌1-2分钟,直到充分混合。

6.将预煮的凤尾鱼汤加入蔬菜混合物中,使其沸腾。

7.加入虾,鱿鱼和贻贝,使其煮熟。

8.加入您选择的面条。

9.趁热食用!


想要获得Hexa Jjamppong韩国海鲜拉面视频食谱,请点击此链接:
想要购买

Hexa Jamppong粉,请按以下链接

:-