As they say, breakfast is the most important meal of the day.  So, you better begin your day with a healthy breakfast option that offers plenty of benefits!
This super easy strawberry granola will become your new breakfast go-to! With lots of filling and healthy ingredients and a sweet strawberry flavor, this granola with dried strawberries is great for a hearty breakfast or a pick-me-up snack in the afternoon!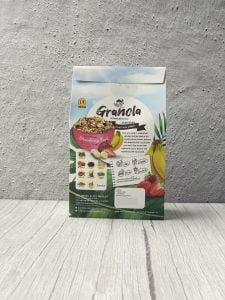 Amazing benefits of the ingredients:
Rolled Oat
Oats are contain many powerful antioxidants and soluble fiber call beta-glucan. They are also higher in protein and fat than many other grains and high in vitamins & minerals which aids in:
Reduce cholesterol and blood sugar levels
Promotes healthy gut bacteria
Lower risk of colon cancer
Manage weight
Increases feelings of fullness
Reduce blood pressure
Relieves skin itching and irritation
Strawberry
Packed with vitamins, fiber, and particularly high levels of antioxidants known as polyphenols, strawberries are a sodium-free, fat-free, cholesterol-free, low-calorie food that helps your body to:
Protect your heart
Increase HDL (good) cholesterol
Lower your blood pressure
Guard against cancer
Regulate blood sugar
Reduce inflammation
Raisin
Raisin is full of antioxidant, good source of iron, fiber and calcium which aids in:
Lower your risk of heart disease by reducing blood pressure and blood sugar
Lower your LDL (bad) cholesterol
Lower Risk of Chronic Disease like diabetes, osteoporosis, and cancer
Aids in digestion
Support bone health
Banana
Bananas are high in potassium and contain good levels of protein, dietary fiber, antioxidants which is vitamin C that aids in:
Prevent constipation
Support digestive health
Improve blood sugar level
Support heart health
Preserving memory and boosting mood
Almond
Almonds contain lots of healthy fats, fiber, protein, magnesium and vitamin E that helps the body to:
Lower blood sugar levels
Reduced blood pressure
Lower cholesterol levels.
Reduce hunger
Promote weight loss.
Lower bad cholesterol (LDL)
Brown Rice
Rich source of dietary fiber, high levels of magnesium and antioxidants, this superfood is low in calories, fat and gluten-free. Hence, all diet conscious people prefer this rice over white rice as it contains many health benefits:
Reduce your risk of death from heart disease
Help in diabetes management
Aid in digestion
Promote weight loss
Help to reduce obesity
Control cholesterol level
Pumpkin seeds
Pumpkin seeds are rich in antioxidants, iron, zinc, magnesium and many other nutrients that helps to:
Helping wounds heal.
Help immune system to fight bacteria and viruses.
Help protect against disease and reduce inflammation.
Help keep your heart healthy by reducing blood pressure and increasing good cholesterol.
Help reduce stress and anxiety, contributors to insomnia.
Quinoa
Quinoa have powerful antioxidant and loaded with many important nutrients, including fiber, protein, folate, and magnesium that helps to:
Support gut health and body weight maintenance.
May lower the risk of chronic disease.
May help balance blood sugar.
Important for heart health.
Cashew Nuts
Cashew nuts are rich in essential fatty acids, potassium, antioxidants, proteins, essential vitamins, and minerals which aids in:
Beneficial for heart health.
help reduce bad cholesterol (LDL) and improve good cholesterol (HDL) in the body.
Help lower the blood pressure
May prevent and control diabetes
May help strengthen bones
Keep your hair shiny and healthy.
Good for eye health
Check it out at our online stores