If you are diagnosed with diabetes, the challenge will be to manage your blood glucose level. Diet choice is the most critical lifestyle decision for diabetic patients. We all know that healthy eating is the key to control diabetes, but it is so hard for you to find suitable yet affordable food in Malaysia.
There are many delicious breakfasts in Malaysian such as Mee Goreng, Roti Canai and Nasi Lemak. Unfortunately, typical Malaysian breakfast is not suitable for people with diabetes or high blood sugar level because it is high in carbohydrate and fat content. Malaysian also like to have some snacks or junk foods during afternoon tea. Those snacks and junk foods are mostly high in fat, sugar and sodium which can increase the risk of overweight or obese, high blood pressure, high cholesterol and high blood sugar level.
Mee Goreng
Roti Canai
Nasi Lemak
Sources: https://www.nutritionmonthmalaysia.org.my/wp-content/uploads/2019/01/nmm2018_infographic_book.pdf
Malaysia Clinical Practice Guidelines Management of Type 2 Diabetes Mellitus
(December 2015, 5th Edition)
Diet should consist of carbohydrates from cereals (preferably whole grain), fruits, vegetables, legumes and low-fat or skimmed milk. Total Carbohydrate intake should be monitored in patient with Type 2 Diabetes Mellitus. The total amount of carbohydrates should be distributed evenly throughout the day.

Sucrose (table sugar) intake must be counted as part of the total carbohydrate intake. Excess sucrose intake contributes to calories and may cause weight gain.

Non-nutritive sweeteners (aspartame, acesulfame K) are allowed.

Limit intake of total fat, saturated fat (found in animal fats and coconut milk), trans fatty acids and cholesterol to reduce the risk of CVD.

Reduced sodium intake (<2000mg sodium/ day or 5g or 1 teaspoon of salt per day) by avoiding high sodium foods (soya sauce, ketchup, pre-mixed cooking paste, monosodium glutamate, salt preserved foods and processed foods). Limit the salt in cooking to ¼ to ½ teaspoonful of salt per person per day.

Diet rich in dietary fiber is encouraged to consume.

Individuals with diabetes have the same vitamin and mineral requirements as the general population.
My Healthy Plate
The plate method is a simple, visual way to make sure you get enough non-starchy vegetables and lean protein and limit the amount of carbohydrate foods that have the greatest potential to spike your blood sugar.
Start with a 9-inch plate
Fill half of the plate with non-starchy vegetables including salad, broccoli, cauliflower, cabbage and green leafy vegetables.

Fill one quarter with a lean protein, such as chicken, turkey, beans, tofu, or eggs.

Fill a quarter of the plate with wholegrain or starchy foods, such as potatoes, rice, or pasta.
Social Cause
Diabetes is affecting everyone and it is hitting vulnerable populations at an even higher rate. It has been well documented that high-quality, healthier foods are more expensive to purchase and more difficult to obtain. For low-income families, access to full-service grocery stores may be limited, making it both logistically challenging and expensive to purchase fresh foods. As a result, their diets are relying more on unhealthy foods which are items packed with refined grains, added sugar, and saturated fat. As a food company, we understand that diabetes is a growing concern globally and the driving change toward a healthier and more sustainable food future. This is the purpose we start with this project.
We introduce HEXA oatmeal for diabetic patients.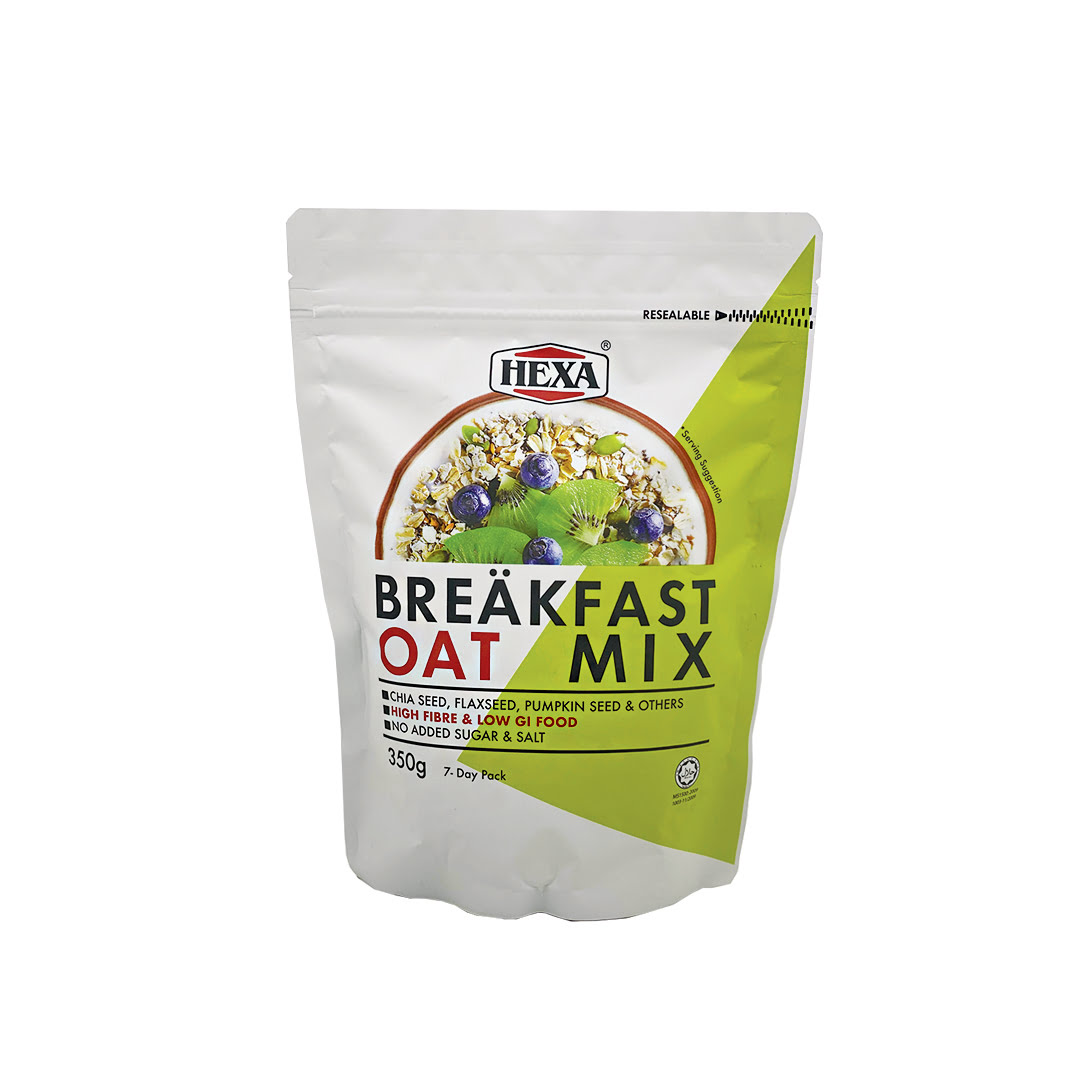 Our oatmeal is
Specifically designed for diabetic patients and people with high blood sugar levels.

Affordable Price, just less than RM1.50 per meal or RM10 per 350g pack

Quick and easy to prepare: Preparation takes less than 3 minutes and consists of only 3 steps
4. It contains nutritious ingredients such as Sunflower seeds, Chia seeds, Flaxseeds and pumpkin seeds.
5. It contains less amount of sorbitol (1.5%) and vanilla powder (0.5%). Sorbitol is 60 % as sweet as table sugar, but it has a much lower GI than table sugar. Vanilla powder is made from vanilla beans that have been dried and powdered. However, not all vanilla powder is the same, white colour vanilla powder contains sugar such as dextrose and sucrose.
Health Benefits
WHAT SO SPECIAL ABOUT OATS?
1. Oats is an excellent source of fiber Oats is a wholesome and high-fiber grain especially rich in beta-glucan which is a type of soluble fiber. This fiber provides a number of health benefits including the following benefits:
Reduce bad cholesterol and total cholesterol level.

Reduce blood sugar level

Improve insulin response

Increase the growth of good bacteria in the gut

Increase satiety feeling of fullness that helps to weight loss.
2. Seeds are good sources of fiber. They also contain a high amount of healthy fat and important vitamins and minerals.
3. There are many different types of oatmeal products in the market from plain oatmeal to flavoured instant oatmeal. Oatmeal is nutritious food because it contains a high amount of fiber, minerals and vitamins. However, eating oatmeal comes with some concerns. Most people do not eat it plain, they normally add lots of sweeteners and make it more likely a dessert. While, many of flavoured instant oatmeal is loaded with sugar, preservative and additives. Hexa breakfast oats Mix is healthy, but at the same time tasty. It contains only 1.5g of sweetener (sorbitol) per 100g and has appealing vanilla and coconut flavour. So, you can also enjoy it without adding sugar.
Get it here via our direct product links:-
Serving Suggestions for people with Diabetics & High Blood Sugar:
For diabetics, we recommend the following diet to enjoy our HEXA breakfast oats mix healthily
With Water
Mix 7 tablespoon (50g) of HEXA Breakfast Oats Mix into 1 cup (180ml) of hot water. Stir thoroughly and wait for 1-2 mins. Ready to serve!
With Milk
Mix 7 tablespoon (50g) of HEXA Breakaast Oats Mix into 1 small cup (120ml) of milk. Stir thoroughly and wait for 1-2 mins. Ready to serve!
With Low Fat Yoghurt
Mix 7 tablespoon (50g) of HEXA Breakfast Oats Mix with 8 tablespoon of yoghurt. Stir thoroughly and wait for 1-2 mins. Ready to serve!
Summary
The foods you consume have a major impact on diabetes and blood glucose levels. Malaysia is known as food heaven, there are many delicious foods and they are so easy to access. While it is hard to find suitable foods for people with diabetes. Most of the foods are highly processed which contains a high amount of sugar and fat. Our new product Hexa Oats Mix is designed especially for people with diabetes or high blood sugar level. It is made from nutritious ingredients such as oats and four different types of seeds. They are good sources of fiber, minerals and vitamins and provide number of health benefits. Our oats mix is not only healthy but also has an appealing flavour so you can avoid adding large amount of sweetener. Moreover, our oats mix is affordable and easy to prepare. We hope our new Breakfast Oats Mix helps you to live a healthy life.
————————————————————————————————————————————————————————————————–
Makanan yang mesra diabetes & berpatutan: HEXA Breakfast Campuran Oats
Jika anda didiagnosis diabetes, cabarannya adalah untuk menguruskan tahap glukosa darah anda. Pilihan diet adalah keputusan gaya hidup yang paling kritikal untuk pesakit diabetes. Kita semua tahu bahawa pemakanan yang sihat adalah kunci untuk mengawal diabetes, tetapi sangat sukar bagi anda untuk mencari makanan yang sesuai tetapi berpatutan di Malaysia.
Kebanyakan rakyat Malaysia suka makan makanan ringan dan sarapan pagi yang lazat seperti Mee Goreng, Roti Canai dan Nasi Lemak.
Mee Goreng
Roti Canai
Nasi Lemak
Malangnya, sarapan pagi Malaysia yang tipikal ini tidak sesuai untuk pesakit kencing manis atau paras gula darah tinggi kerana kandungan karbohidrat dan lemak yang tinggi.
Malaysia juga suka makan makanan ringan yang tidak berkhasiat semasa minum petang. Makanan ringan ini mengandungi kebanyakannya lemak , gula dan natrium yang tingi dan boleh meningkatkan risiko berat badan berlebihan atau obes, tekanan darah tinggi, kolesterol tinggi dan tahap gula darah tinggi.
Sumber: https://www.nutritionmonthmalaysia.org.my/wp-content/uploads/2019/01/nmm2018_infographic_book.pdf
Garis Panduan Amalan Klinikal Malaysia Pengurusan Jenis 2 Diabetes Mellitus (Disember 2015, Edisi ke-5)
Diet perlu terdiri daripada karbohidrat dari bijirin (sebaik-baiknya bijirin penuh), buah-buahan, sayur-sayuran, kekacang dan susu rendah lemak atau skim. Jumlah pengambilan karbohidrat perlu dipantau dalam pesakit dengan Diabetes Mellitus Jenis 2. Jumlah karbohidrat perlu diagihkan sama rata sepanjang hari.

Pengambilan sucak (gula meja) mesti dikira sebagai sebahagian daripada pengambilan jumlah karbohidrat. Pengambilan sukrosa yang berlebihan menyumbang kepada kalori dan boleh menyebabkan kenaikan berat badan.

Pemanis yang tidak berkhasiat (aspartam, acesulfane K) dibenarkan.

Mengehadkan pengambilan jumlah lemak, lemak tepu (didapati dalam lemak haiwan dan santan), asid lemak trans dan kolesterol untuk mengurangkan risiko CVD.

Mengurangkan pengambilan natrium (<2000mg natrium / hari atau 5g atau 1 sudu teh garam setiap hari) dengan mengelakkan makanan natrium yang tinggi (sos soya, saus tomato, pasta memasak pra campuran, monosodium glutamat, makanan yang dipelihara garam dan makanan yang diproses). Hadkan garam dalam memasak hingga ¼ hingga ½ sendok teh garam setiap orang setiap hari.

Diet kaya dengan serat makanan digalakkan untuk dimakan.

Individu yang mempunyai diabetes mempunyai keperluan vitamin dan mineral yang sama seperti populasi umum.
Plat Sihat Saya
Kaedah plat adalah cara yang mudah dan visual untuk memastikan anda mendapat cukup sayur-sayuran bukan berair dan protein tanpa lemak, dan hadkan jumlah makanan karbohidrat yang mempunyai potensi terbesar untuk meningkatkan kadar gula darah anda.
Mulakan dengan pinggan makan 9 inci:
si separuh plat dengan sayur-sayuran yang bukan berkanji termasuk salad, brokoli, kembang kol, kubis dan sayuran berdaun hijau

Isikan seperempat dengan protein tanpa lemak, seperti ayam, ayam belanda, kacang, tahu, atau telur.

Isikan seperempat plat dengan keseluruhan gram atau makanan berkanji, seperti kentang, beras, atau pasta
Masalah sosial
Diabetes menjejaskan semua orang dan memukul populasi yang terdedah pada kadar yang lebih tinggi. Telah didokumenkan dengan baik bahawa makanan yang berkualiti tinggi, sihat lebih mahal untuk dibeli dan lebih sukar diperolehi. Bagi keluarga berpendapatan rendah, akses ke kedai runcit perkhidmatan penuh mungkin terhad, menjadikannya secara logistik mencabar dan mahal untuk membeli makanan segar. Akibatnya, diet mereka lebih bergantung pada makanan yang tidak sihat yang merupakan barang yang dibungkus dengan bijirin halus, menambah gula, dan lemak tepu. Sebagai syarikat makanan, kita memahami bahawa kencing manis semakin membimbangkan di peringkat global dan perubahan memandu ke arah masa depan makanan yang lebih sihat dan lebih mampan. Inilah tujuan yang kita mulakan dengan projek ini.
Kami memperkenalkan oatmeal HEXA untuk pesakit diabetes.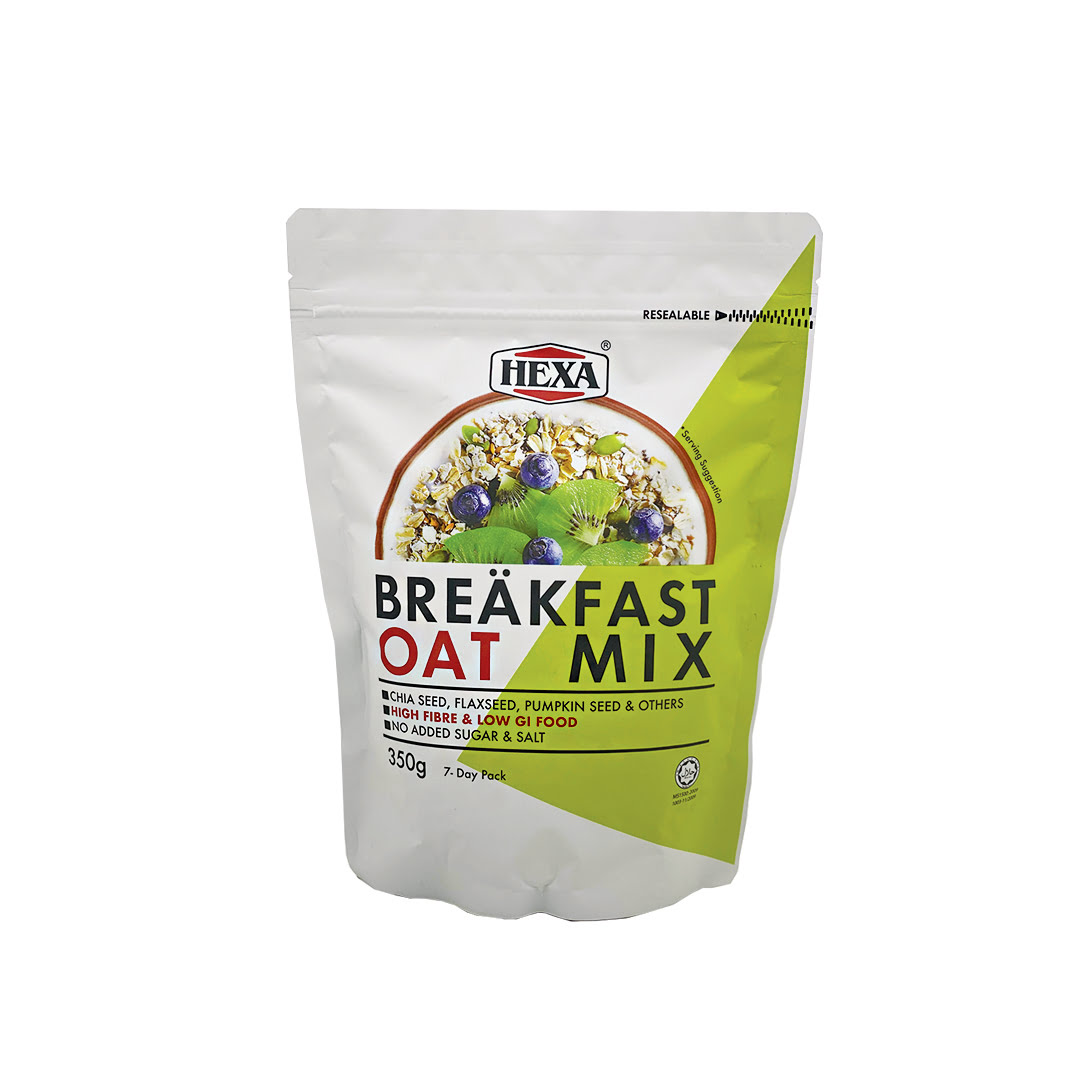 Oat kami adalah
1. Khusus untuk pesakit kencing manis dan orang yang mempunyai paras gula darah tinggi.
2. Harga Terjangkau, hanya kurang dari RM1.50 setiap hidangan atau RM10 setiap pek 350g
3. Cepat dan mudah disediakan: Persediaan mengambil kurang dari 3 minit dan hanya terdiri daripada 3 langkah
4. Mengandungi bahan-bahan berkhasiat seperti: Biji bunga matahari, biji Chia, Biji rami dan biji labu.
5. Kandungan kurang jumlah pemanis sorbitol (1.5%) dan serbuk vanila (1.5%). Sorbitol adalah 60% manis seperti gula dalam jadual, tetapi ia mempunyai GI jauh lebih rendah daripada gula dalam jadual. Kuasa vanila diperbuat daripada kacang vanila yang telah dikeringkan dan dibakar. Walau bagaimanapun, tidak semua serbuk vanila adalah sama, serbuk vanila warna putih mengandungi gula seperti dextrose dan sukrosa.
Faedah kesihatan Oats
APAKAH ISTIMEWA TENTANG OATS?
1. Oat adalah sumber serat yang sangat baik
Oat adalah bijirin yang sihat dan berkhasiat tinggi terutamanya kaya dengan beta-glucan yang merupakan jenis serat larut. Serat ini menyediakan beberapa manfaat kesihatan termasuk faedah berikut:

Mengurangkan kolesterol jahat dan tahap kolesterol.

Mengurangkan tahap gula darah

Meningkatkan tindak balas insulin

Meningkatkan pertumbuhan bakteria baik dalam usus

Meningkatkan kenyang / penipisan kepenuhan yang membantu menurunkan berat badan.
2. Benih adalah sumber serat yang baik. Mereka juga mengandungi jumlah lemak yang sihat dan vitamin dan mineral penting.
3. Terdapat banyak jenis produk oatmeal di pasaran dari oat kosong hingga rasa oat segera. Oatmeal adalah makanan berkhasiat kerana ia mengandungi jumlah serat, mineral dan vitamin yang tinggi. Walau bagaimanapun, memakan oatmeal datang dengan beberapa kebimbangan. Kebanyakan orang tidak memakannya dengan betul, mereka biasanya menambah banyak pemanis dan menjadikannya pencuci mulut lebih cenderung. Walaupun, banyak rasa oat segera dimuatkan dengan gula, pengawet dan aditif. Hexa sarapan oat mempunyai campuran sihat dan lazat. Ia mengandungi hanya 1.5g pemanis (sorbitol) setiap 100g dan mempunyai rasa vanila dan kelapa yang menarik. Jadi, anda boleh menikmatinya tanpa menambah gula.
Beli sekarang melalui produk link :-
Cadangan untuk orang dengan Gula Kencing manis & Darah Tinggi:
Bagi pesakit kencing manis, kami mengesyorkan diet berikut untuk menikmati campuran oat sarapan HEXA dengan cara yang sihat.
Campurkan 7 sudu besar (50g) HEXA Breakafast Oats Campurkan ke dalam 1 cawan (180ml) air panas. Kacau dengan teliti dan tunggu selama 1-2 minit. Bersedia untuk makan!
Campur 7 sudu besar (50g) HEXA Breakafast Oats Campurkan dalam 1 cawan kecil (120ml) susu. Kacau dengan teliti dan tunggu selama 1-2 minit. Bersedia untuk makan!
Dengan Yoghurt Rendah Lemak
Campurkan 7 sudu besar (50g) HEXA Breakafast Oats Mix dengan 8 sudu yoghurt. Kacau dengan teliti dan tunggu selama 1-2 minit. Bersedia untuk makan!
Ringkasan
Makanan yang anda makan mempunyai kesan utama ke atas diabetes dan tahap glukosa darah. Malaysia dikenali sebagai makanan syurga, terdapat banyak makanan yang lazat dan mudah diakses. Walaupun, sukar untuk mencari makanan yang sesuai untuk pesakit diabetes. Kebanyakan makanan telah diproses dan mengandungi jumlah gula dan lemak yang tinggi. Produk baru kami Hexa Campuran Oats direka khas untuk pesakit kencing manis. Ia diperbuat daripada bahan-bahan berkhasiat seperti oat dan empat jenis benih. Mereka adalah sumber serat, mineral dan vitamin yang baik dan memberikan banyak manfaat kesihatan. Campuran oat kami bukan sahaja sihat tetapi juga mempunyai rasa vanila yang menarik supaya anda dapat mengelakkan untuk menambah jumlah pemanis yang besar. Lebih-lebih lagi, campuran oat kami adalah berpatutan dan mudah disediakan. Kami berharap Sarapan Campuran Oats baru membantu anda menjalani kehidupan yang sihat.
————————————————————————————————————————————————————————————————–
理想的糖尿病友好且价格实惠的餐点:HEXA早餐燕麦混合粉


如果您被诊断出患有糖尿病,那么挑战将是控制血糖水平。饮食选择是糖尿病患者最关键的生活方式决定。大家都知道,健康饮食是控制糖尿病的关键,但是在马来西亚很难找到合适且价格适中的食物。

马来西亚人有很多美味的早餐,例如,印度炒面, 印度煎饼和椰浆饭。不幸的是,典型的马来西亚早餐不适合患有糖尿病或高血糖的人,因为它的碳水化合物和脂肪含量很高。马来西亚人也喜欢在下午茶时吃些零食或垃圾食品。这些零食和垃圾食品大多富含脂肪,糖和钠,可能增加超重或肥胖,高血压,高胆固醇和高血糖的风险。






资料来源:https://www.nutritionmonthmalaysia.org.my/wp-content/uploads/2019/01/nmm2018_infographic_book.pdf

 

马来西亚2型糖尿病临床实践指南管理

(2015年12月,第5版)


饮食应包括谷物(最好是全谷物),水果,蔬菜,豆类和低脂或脱脂牛奶中的碳水化合物。 2型糖尿病患者应监测总碳水化合物摄入量。碳水化合物的总量应全天平均分配。

蔗糖(食糖)的摄入量必须算作碳水化合物总摄入量的一部分。过量摄入蔗糖会增加卡路里,并可能导致体重增加。

允许使用非营养性甜味剂(阿斯巴甜,乙酰磺胺酸钾)。

限制总脂肪,饱和脂肪(存在于动物脂肪和椰奶中),反式脂肪酸和胆固醇的摄入量,以降低CVD的风险。

通过避免高钠食物(酱油,番茄酱,预混合烹饪糊,味精,盐腌制的食物和加工食品),减少钠的摄入量(每天<2000mg钠/天或5g或每天一茶匙盐)。将烹饪中的盐量限制为每人每天¼至½茶匙盐。

鼓励食用富含膳食纤维的饮食。

糖尿病患者的维生素和矿物质需求与普通人群相同。

 
我的健康板块

平板法是一种简单,直观的方法,可确保您获得足够的非淀粉类蔬菜和瘦肉蛋白质,并限制具有最大的加糖潜​​力的碳水化合物食物的量。

从9英寸的盘子开始

用非淀粉类蔬菜填充盘子的一半,包括沙拉,西兰花,花椰菜,卷心菜和绿叶蔬菜。

在四分之一的食物中加入瘦蛋白,例如鸡肉,火鸡,豆类,豆腐或鸡蛋。

用全谷物或淀粉类食物(例如土豆,米饭或面食)填充四分之一的盘子。




社会事业

糖尿病正在影响着每个人,并且以更高的速度袭击了脆弱人群。有充分的文献证明,高质量,更健康的食品购买起来更昂贵,更难获得。对于低收入家庭,进入全方位服务杂货店的机会可能会受到限制,这使得后勤方面的挑战和购买新鲜食品的费用昂贵。结果,他们的饮食更多地依赖不健康的食物,这些食物富含精制谷物,添加的糖和饱和脂肪。作为一家食品公司,我们了解到糖尿病在全球范围内日益受到关注,并且正在朝着更健康,更可持续的食品未来发展。这就是我们从这个项目开始的目的。

 
我们为糖尿病患者介绍HEXA燕麦片。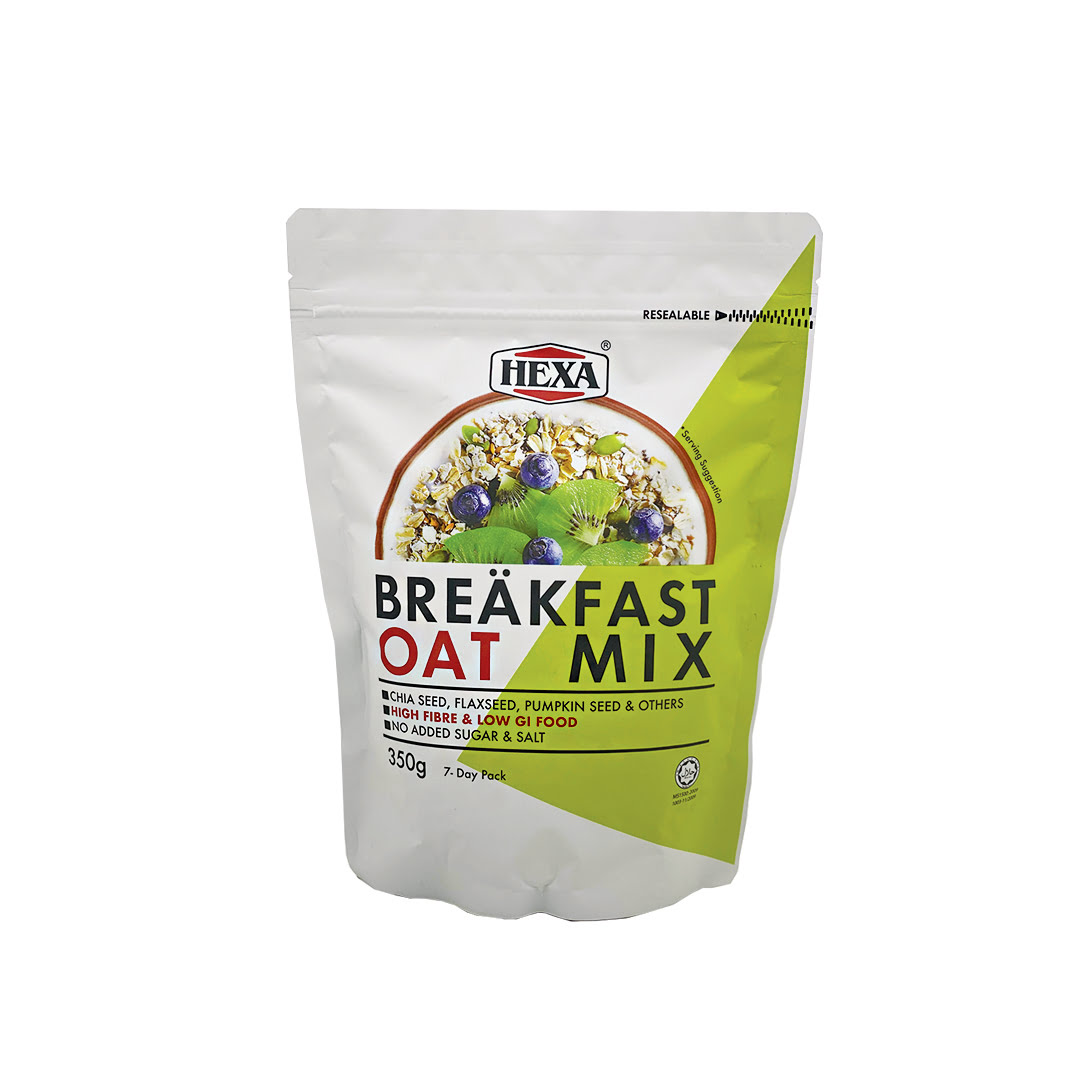 我们的燕麦片是: 

  
1. 专为糖尿病患者和高血糖患者设计。

2. 实惠的价格,每餐不到RM1.50或每350g包RM10

3. 快速简便地准备:准备过程不到3分钟,仅需3个步骤

4.它包含营养成分,例如葵花籽,正大籽,亚麻籽和南瓜籽。

5.它包含较少量的山梨醇(1.5%)和香草粉(0.5%)。山梨糖醇的甜度为食用糖的60%,但其GI远低于食用糖。香草粉是由经过干燥和粉化的香草豆制成。但是,并非所有的香草粉都是一样的,白色的香草粉中含有糖,例如葡萄糖和蔗糖。




对健康的益处



燕麦有什么特别之处?



1.燕麦是纤维的极好来源燕麦是一种健康且高纤维的谷物,尤其富含β-葡聚糖,后者是一种可溶性纤维。这种纤维具有许多健康益处,包括以下益处:

- 降低不良胆固醇和总胆固醇水平。

- 降低血糖水平

- 改善胰岛素反应

- 增加肠道中有益细菌的生长

- 增加饱腹感,有助于减肥。

  
2.种子是纤维的良好来源。它们还含有大量的健康脂肪以及重要的维生素和矿物质。


3.市场上有许多不同类型的燕麦产品,从纯燕麦片到调味速溶燕麦片。燕麦粥是一种营养食品,因为它含有大量的纤维,矿物质和维生素。但是,食用燕麦片会带来一些问题。大多数人不简单地吃它,他们通常添加很多甜味剂,并使其更可能成为甜点。同时,许多调味的速食燕麦片中都含有糖,防腐剂和添加剂。 Hexa燕麦混合早餐很健康,但同时也很美味。每100克仅含1.5克甜味剂(山梨糖醇),并具有诱人的香草和椰子风味。因此,您也可以不添加糖就享用它。
想要购买HEXA燕麦片, 请按以下链接:-


对糖尿病和高血糖患者的服务建议:

对于糖尿病患者,我们建议您通过以下饮食来健康地享用我们的HEXA早餐燕麦

 
与水

将7汤匙(50克)的HEXA早餐燕麦混合到1杯(180毫升)的热水中。彻底搅拌,等待1-2分钟。随时待命!

 
用牛奶

将7汤匙(50克)的HEXA Breakaast燕麦混合成一小杯(120毫升)牛奶。彻底搅拌,等待1-2分钟。随时待命!

 
低脂酸奶

将7汤匙(50克)的HEXA早餐燕麦与8汤匙的酸奶混合。彻底搅拌,等待1-2分钟。随时待命!

 
概要

您食用的食物会对糖尿病和血糖水平产生重大影响。马来西亚被誉为美食天堂,有很多美味的食物,而且很容易获得。虽然很难找到适合糖尿病患者的食物。大多数食物都是经过高度加工的,其中含有大量的糖和脂肪。我们的新产品Hexa Oats Mix专为糖尿病或高血糖患者设计。它是由营养成分制成的,例如燕麦和四种不同类型的种子。它们是纤维,矿物质和维生素的良好来源,并提供许多健康益处。我们的燕麦混合物不仅健康,而且具有诱人的风味,因此您可以避免添加大量甜味剂。此外,我们的燕麦混合物价格合理且易于制备。我们希望我们的新早餐燕麦混合食品能够帮助您过上健康的生活。