HEXA has launched a latest product, Sichuan Mala Spice Mix, to boost the flavours in foods and bring some tangy intensity to the table. Originating from Sichuan, China, this spice is very much used in Chinese cuisine and has gained popularity via the Mala Hot Pot. Interestingly, "Ma" means numb, and "la" means spices. Sichuan Mala Hotpot is a dish popular in China, and among the Chinese in Malaysia. Undeniably though, this new spice mix is sure to go down well with Muslim consumers, as well as other ethnic groups, as its taste agrees with their palate. Szechuan Peppercorn is one of the ingredients in this spice blend, hence making Sichuan Mala Spice Mix suitable to be added to soups to make Sichuan Mala Soup, and gravies to give it that dash of heat-infused goodness. When used in beef and other kinds of meat, the food will be tempting and appetising. Individual consumers, retailers, and the food service industry will find this product an ideal addition to their cooking and dining needs. This product is also available in 1kg bulk packs and can only be purchased at our online store.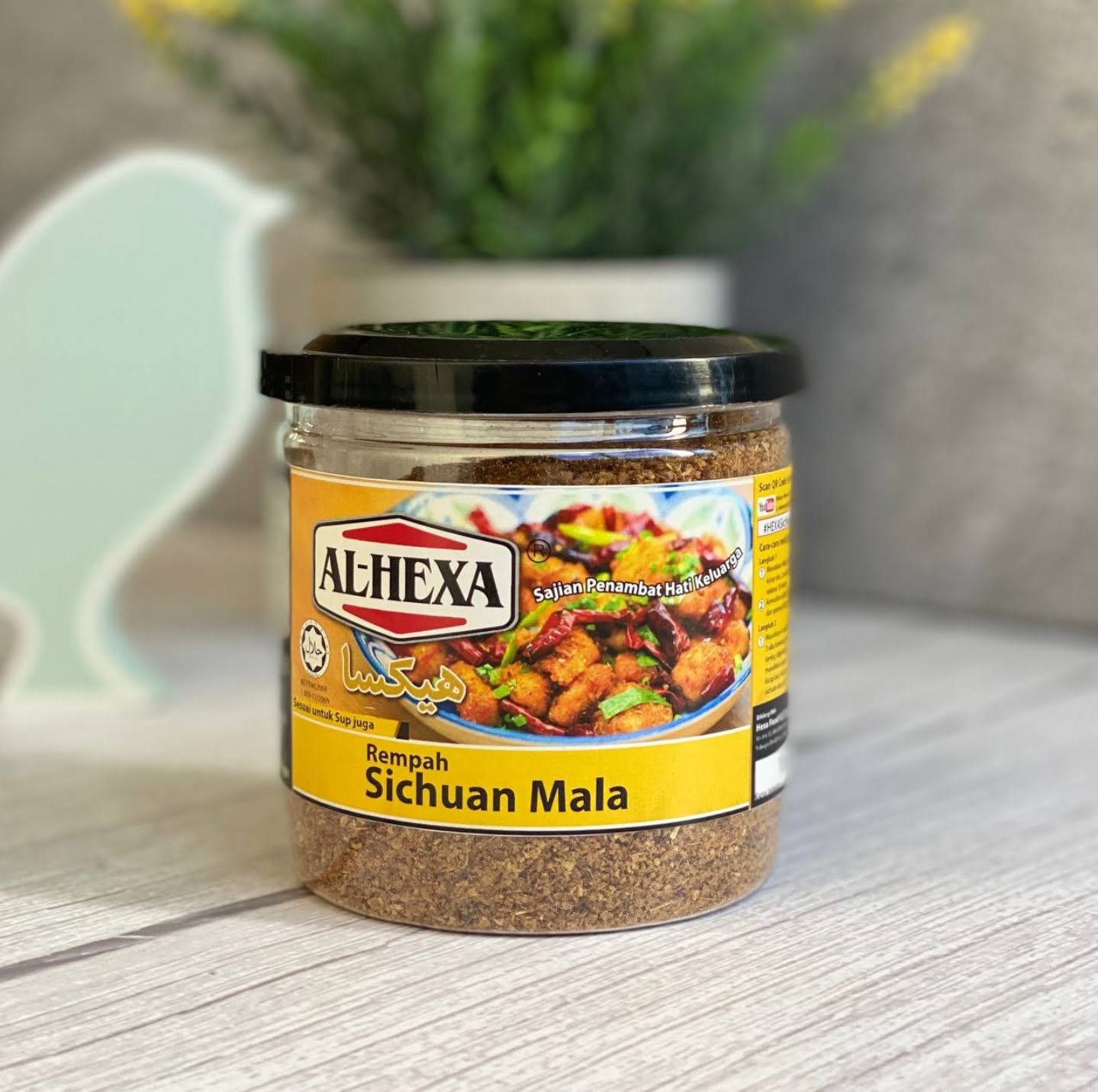 Website here
Facebook here
Youtube here (Subscribe to our channel for more video recipes)
Direct Product Link(s) :-
HEXA Food Sdn. Bhd. is a HACCP and HALAL certified food processing company located in Shah Alam, Malaysia. Established in 1997, we produce more than 100 dry products such as spices, seasonings, herbs, marinades, flour and curry powder. HEXA is a household brand that defines Quality, Affordability and Taste.
Our sales channels include Retail (hypermarket, supermarket, mini market, etc.), Food Manufacturer, Food Service and Online. If you have any questions regarding our products, please email us at hexafood@hexafood.com
---
Buy this, cook, snap and stand a chance to win! More info here
Insta Reels of the contest details: Insta Reel 1 Insta Reel 2
---
HEXA Rempah Sichuan Mala
HEXA telah melancarkan produk terbaru iaitu Sichuan Mala Spice Mix, untuk merangsang rasa dalam makanan dan membawa kehebatan tajam ke meja. Bermula dari Sichuan, China, rempah ini sangat banyak digunakan dalam masakan Cina dan telah mendapat populariti melalui Mala Hot Pot. Menariknya, "Ma" bermakna kebas, dan "la" bererti rempah-rempah. Sichuan Mala Hot pot adalah hidangan yang popular di China dan di kalangan orang Cina di Malaysia. Tidak dapat dinafikan, walaupun campuran rempah yang baru ini pasti akan turun dengan baik dengan pengguna-pengguna Islam, serta kumpulan etnik yang lain selaras dengan selera mereka. Lada Szechuan adalah salah satu ramuan dalam campuran rempah ini, dengan itu menjadikan Sichuan Mala Spice Mix sesuai untuk membuat Sichuan Mala Sup. Apabila digunakan dalam daging lembu dan lain-lain jenis daging, makanan akan menggoda dan menyelerakan. Pengguna individu, peruncit, dan industri perkhidmatan makanan akan mendapati produk ini merupakan tambahan yang ideal untuk keperluan memasak makanan mereka. Produk ini juga boleh didapati dalam pek pukal 1kg dan hanya boleh dibeli di kedai online kami.
Website sini
Facebook sini
Youtube sini
Link Produk:-
HEXA Food Sdn. Bhd. Adalah sebuah syarikat pemprosesan makanan bersijilkan HACCP dan HALAL yang terletak di Shah Alam, Malaysia. Ditubuhkan pada tahun 1997, kami menghasilkan lebih daripada 100 produk kering seperti rempah, serbuk perasa, herba, perapan, tepung dan serbuk kari. HEXA adalah jenama isi rumah yang mentakrifkan Kualiti, Kemampuan dan Rasa.
Saluran jualan kami termasuk Runcit (hypermarket, pasar raya, pasar mini, dll.), Pengilang Makanan, Perkhidmatan Makanan dan Online. Jika anda mempunyai sebarang soalan mengenai produk kami, sila e-mel kami di hexafood@hexafood.com
---
HEXA Spices四川麻辣

HEXA推出了其最新产品四川麻辣香料混合料,以刺激食品的味道并为餐桌带来清晰度。这种香料最初来自中国四川,在中国菜中被广泛使用,并已通过Mala Hot Pot受到欢迎。有趣的是," Ma"表示麻木," la"表示香料。四川麻辣火锅在中国和马来西亚的中国人中很受欢迎。但是,毫无疑问,这种新的香料混合物肯定会受到穆斯林消费者以及其他符合其口味的种族的欢迎。四川胡椒是这种香料混合物中的成分之一,因此使四川麻辣香料混合物非常适合制作四川麻辣汤。当用于牛肉和其他类型的肉中时,食物会很诱人,而且开胃。个人消费者,零售商和食品服务行业将发现此产品是他们食品烹饪需求的理想补充。该产品也以1kg散装的形式提供,只能在我们的在线商店购买。


网址 此
Facebook 此
Youtube 此 
产品链接:-


HEXA Food Sdn. Bhd. 是位于马来西亚莎阿南的经过HACCP和HALAL认证的食品加工公司。成立于1997年,我们生产100多种干产品,例如香料,调味料,药草,腌泡汁,面粉和咖喱粉。 HEXA是定义质量,功能和口味的家用品牌。

我们的销售渠道包括零售(大型超市,超级市场,小型市场等),食品制造商,食品服务和在线。如果您对我们的产品有任何疑问,请发送电子邮件至hexafood@hexafood.com