"Can't travel to Korea ? No worries, with the HEXA Korean chili coarse, you are able to experience the taste of Korea from your own kitchen!
Korean chilli coarse is known as Gochugaru (고추가루) in Korea. In Korea, the Korea chili coarse is a must-have spice in every kitchen, it is the key spice for making Gochujang, Kimchi, cucumber salad, Budae Jjigae (Korean Army Stew), spicy bulgogi and korea chilli oil. The high amount of vitamin A, vitamin C and antioxidant are able to boost immunity and prevent us from some diseases. The other benefits of eating it such as increasing metabolism, decrease stress level and keeping our heart healthy.
In HEXA, after selecting the good quality Korean red chilies the chili peppers are deseeded, dried out and they will be grinded to the perfect coarse size. The spiciness of our HEXA Korea chilli lies around 4,000-8,000 Scoville units, it is of mild spiciness. HEXA Korea chilli coarse have a beautiful bright red appearance. It has mild to moderate spicy taste with a hint of sweetness and a twist of smoke taste. The Korea Chilli Coarse tastes quite different compare to other non-Korean standard chili flakes varieties, so it is best not to substitute with them in any recipes.
The HEXA Korea chilli coarse is easy to use and store. Avoid storing it at a place with high humidity and direct sunlight. Once you open the package, it needs to be kept in a cool shaded place. It can get moldy if you don't store it well.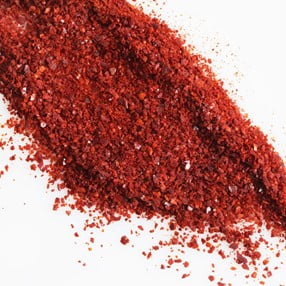 HEXA Korea chilli coarse is certified HALAL by JAKIM Malaysia and manufactured in-house at our very own factory.
---
"不能去韩国旅游?不用担心,HEXA韩式辣椒片,让你在自己的厨房里也能体验到韩国的味道!
韩式辣椒片在韩国被称为 Gochugaru (고추사루)。 在韩国,韩式辣椒片是每个厨房必备的香料,它是制作Gochujang、泡菜、黄瓜沙拉、Budae Jjigae(韩国炖肉)、辣猪肉烤肉和韩国辣椒油的关键香料。韩式辣椒片含有大量的维生素 A、维生素 C 和抗氧化剂,能够增强我们的免疫力并预防患上某些疾病。除了增强免疫力,食用韩式辣椒片还有很多好处,如增加新陈代谢、降低压力水平和保持我们的心脏健康。
在HEXA Food,我们选择优质的韩国红辣椒,将辣椒去籽、晒干,然后研磨成完美的粗粒大小。我们的HEXA韩式辣椒片的辣度在4000-8000 SHU左右,辣度适中。
HEXA 韩式辣椒片具有美丽的鲜红色外观,且具有轻度至中度的辛辣味,带有一丝甜味和一丝烟熏味。与其他非标准的韩式辣椒片品种相比,韩式辣椒片的味道有很大的不同,所以最好不要在任何食谱中替代它们。 HEXA韩式辣椒片易于使用和储存,避免高湿度和阳光直射。打开包装后,您需要将其存放在阴凉处。如果储存不当,将会造成该产品发霉。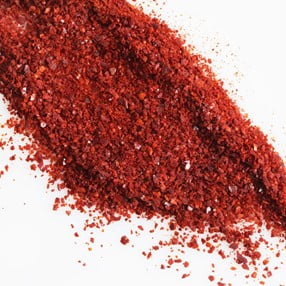 HEXA 韩式辣椒片获得了马来西亚 JAKIM 的清真认证,并在我们自己的工厂内部生产。


---
Tidak boleh melancong ke Korea? Jangan risau, HEXA Korean chili flakes akan membolehkan anda merasai rasa Korea di dapur anda sendiri!
Serpihan cili Korea dipanggil Gochugaru (고추 사루) di Korea. Di Korea, serpihan cili Korea adalah rempah yang mesti ada di setiap dapur. Ia adalah rempah utama untuk membuat Gochujang, Kimchi, Salad Timun, Budae Jjigae (Rebus Korea), BBQ Daging Pedas, dan Minyak Cili Korea.
Serpihan cili Korea mengandungi banyak vitamin A, vitamin C dan antioksidan, yang boleh menguatkan imuniti kita dan mencegah penyakit tertentu. Selain meningkatkan imuniti, makan cili flakes Korea mempunyai banyak manfaat, seperti meningkatkan metabolisme, mengurangkan tekanan dan mengekalkan kesihatan jantung kita.
Di HEXA Food, kami memilih lada merah Korea berkualiti tinggi, keluarkan bijinya, keringkan, dan kemudian kisar kepada saiz bijian kasar yang sempurna. Cili HEXA Korea kami sederhana pedas, kira-kira 4000-8000 SHU. Serpihan cili Korea HEXA jernih, merah terang, agak pedas, agak pedas, agak manis, dan agak berasap. Berbanding dengan jenis serpihan cili Korea yang tidak standard yang lain, rasa serpihan cili Korea sangat berbeza, jadi sebaiknya jangan menggantikannya dalam mana-mana resipi.
Serpihan cili Korea HEXA mudah digunakan dan disimpan, elakkan kelembapan tinggi dan cahaya matahari langsung. Selepas membuka bungkusan, anda perlu menyimpannya di tempat yang sejuk. Jika disimpan dengan tidak betul, produk akan menjadi berkulat.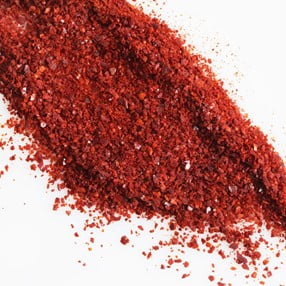 Serpihan Cili Korea HEXA disahkan HALAL oleh JAKIM Malaysia dan dikilangkan sendiri di kilang kami sendiri.