HEXA's best seller series is none other than our HEXA 4 in 1 series! HEXA 4 in 1 series of spices, herbs and seasonings helps everyone to whip up delicious and appetizing meals. We have American, Italian & British which won everyone's heart and customers have been requesting for other countries' best authentic local food.
We heard you! Your long-awaited moment is finally here!! Annyeonghaseyo! Good things are meant to be shared! We are proud to announce that our HEXA Korean 4 in 1 series is up now :D. It is a bottle filled with authentic Korean flavour such as seaweed, jjamppong, Korean chili and Korean bbq which can help you to cook scrumptious and iconic Korean food with just a few simple steps.  Sprinkle? Soup? Barbecue? No problem with our HEXA Korean 4 in 1!
SEAWEED SEASONING
Seasoned Seaweed Flakes is called Kimjaban in Korean. The seaweed flavour seasoning can be used as a sprinkle on top of rice, bibimbap, kimbap and a variety of dishes to enhance the appearance, taste and aroma of food. Adds a nice savory kick to all kinds of dishes including everything from steak to popcorn. You'll find it to be quite additive and delicate!
JJAMPPONG POWDER
Jjamppong (or Jjamppong, 짬뽕) is one of the most popular dishes you can order from a Korean-Chinese restaurant. Jjamppong consists of fresh noodles, various vegetables and various seafoods and it is served in a red hot soup base. Generally the soup can be quite spicy but it can be toned down if you're cooking it at home. HEXA Jjamppong powder is the secret ingredient to go for a super easy stir fried the seafood or Jjamppong soup! Just add it into anchovy stock, boil it and voila! Jjamppong soup is done!
KOREAN CHILI POWDER (GOCHUGARU)
When you think of Korean BBQ, you can't miss out both Korean chili and Korean BBQ as they are the best part for marination, grill and barbecue. Korean chili powder is a vibrant red seasoning traditionally made with sun-dried chili peppers ground into different consistencies ranging from fine to flaky. It has mild to moderate spicy taste with a hint of sweetness and is one of the most important Korean ingredients. It is used in gochujang (Korean chili paste), kimchi, spicy Korean soups and stews (e.g. sundubu jjigae) and spicy Korean side dishes (e.g. Korean cucumber salad). You can also add Gochugaru to the meat marinade for Korean barbecue dishes like Bulgogi. The dried chili flakes add heat, smokiness, and a general chili flavor to the marinade.
KOREAN BBQ SEASONING
Barbecues are an essential part of Korean culture because, while they are moments of pleasure and enjoyment, they are also moments of sharing. In the country's culture, sharing is one of the central values, which means that food is appreciated all the more when it is shared with those we love. Once you have this magic BBQ Dust in your pantry, you will use it to marinate everything!
For BBQ, rub a generous amount all over protein and let it sit overnight. Great for ribs, chicken wings, shrimp, fish,  roasted vegetables and beef riskets.
For a finisher, sprinkle over everything that is already cooked and needs a flavour boost like fries, popcorn, fried chicken, burgers and roasted vegetables, etc.
Therefore HEXA Korean 4 in 1 series condiments can be added on your meats, rice, soup, stew to fix your Korean food craving. How simple is that?!
Convenient, simple and flavourful secret recipe from our HEXA Korean 4 in 1. Mmmm….Dae-licious😋! We are sure you don't not want to miss it. Aigoo아이고…Daebak대박!!! 😋 Still wondering? Why Not? Check it out and grab in our e store here or use our product's direct link below.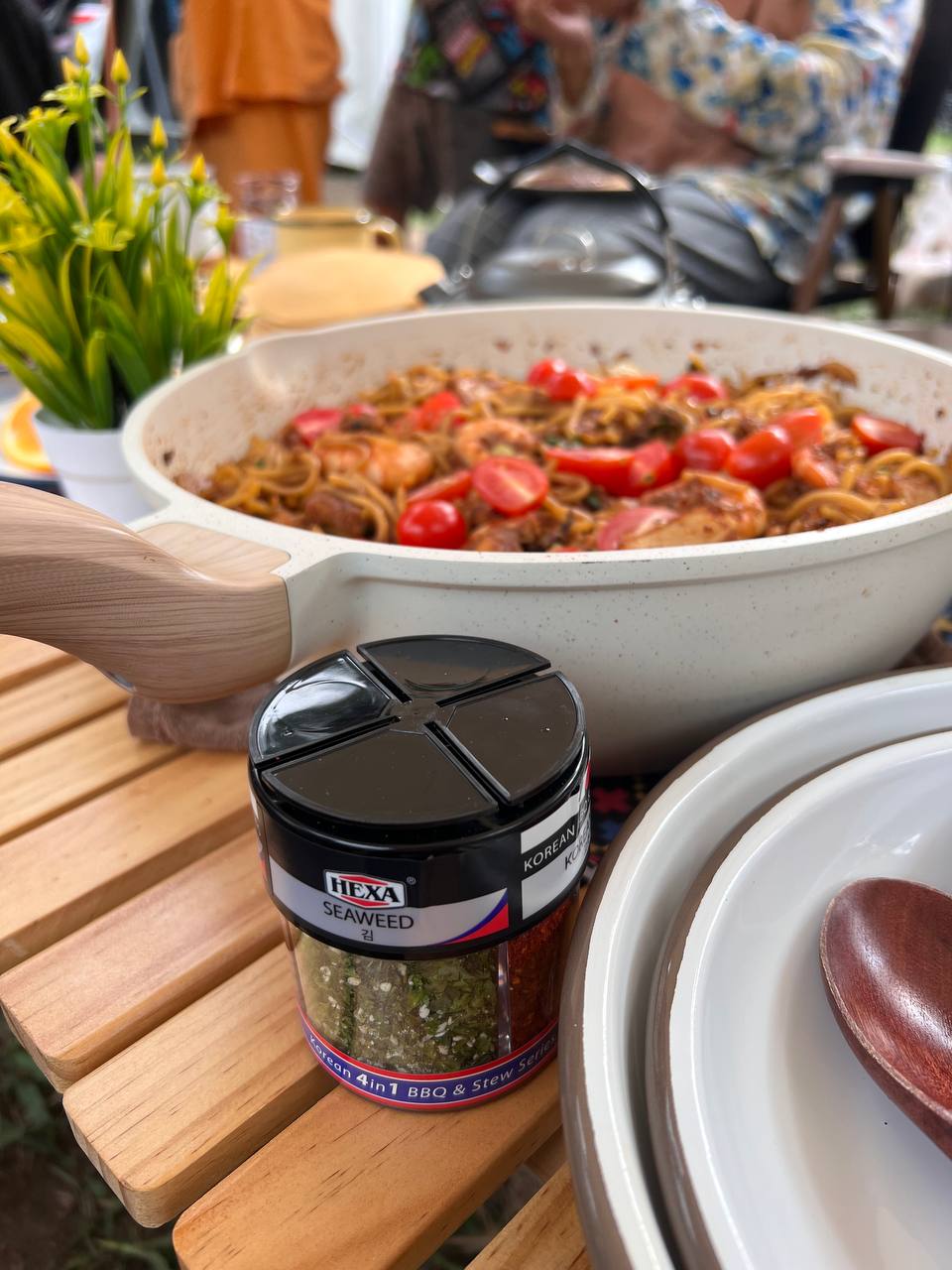 Check it out at our online stores 👇
Not sure what else to do with it? Check out our Youtube here for more recipes! We will guide you through! 
#Korean4in1 #Daelicious #Korean #Kpop #Cookingisfun #HexaFood #Wercooks
---
Buy this, cook, snap and stand a chance to win! More info here
Insta Reels of the contest details: Insta Reel 1 Insta Reel 2